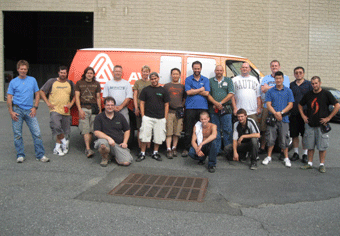 Avery Dennison and Mutoh America Inc. are offering ten car wrap training sessions at various locations in the United States and Canada in 2012. Every session of the popular Avery/Mutoh Car Wrap Training Program, taught by Justin Pate, was sold out in 2011. Registration for the training sessions has opened and is available at http://na.averygraphics.com.
Justin Pate will return to teach his vehicle wrap installation techniques with Avery MPI 1005 Supercast Easy Apply RS, Supreme Wrapping Films and DOL overlaminates—all well-liked by installers for wrapping cars. A new feature added for 2012 is a design, layout, and front-end customer service half-day module with industry expert Todd LaBrie. Avery Dennison certification tests will also be offered in conjunction with each session. Mutoh America, ONYX, Knifeless Tape and CroftGate will support the Avery/Mutoh Car Wrap Training Program sessions in 2012.
The 2011 classes received rave reviews. A participant from Georgia shared, "I really learned a lot in the class and it has really been paying off in the time I save at work."
Each session consists of two days of training focused on all of the critical steps needed to improve the quality and speed of car wrap installations. Class sizes will be maintained at a maximum of seventeen students to allow for valuable one-on-one teaching.
A variety of subjects will be covered—including tools, properties of the film, removals, cleaning, UGIS (Universal Graphic Installation System), layout/key panel, registration, problem solving, hardware removals, and post-install tips.
Participants of each class will receive an NT Cutter A-551P knife, Avery Toolkit including print media and laminate and a Martor safety box; a package valued at over $700.
The class schedule for 2012 includes:
March 12-14 (Mon-Wed): Pompano Beach, FL
March 15-17 (Tue-Sat): Dallas, TX
April 12-14(T-S): Charlotte, NC
April 16-18 (M-W): San Francisco, CA
June 7-9 (T-S) Toronto, ON CA
June 11-13 (M-W) Los Angeles, CA
September 10-12(M-W) Wharton, NJ
September 13-15 (T-S) Chicago, IL
October 22-24 (M-W) Houston, TX
October 25-27 (T-S) Seattle, WA
Details on venues will be forthcoming.
The Avery Dennison Certification test for experienced installers will be given on the third day of each session from 8 a.m. – 12 p.m. followed by the design and layout module with Todd LaBrie in the afternoon. In 2011, thirty-five wrap installers were certified by Avery Dennison.
To find the session nearest you, review course details and costs, or to learn more, CLICK HERE.
Participants can submit requests to Avery Dennison's technical services team at [email protected] prior to the class explaining specific areas of interest and what they want to learn. These inquiries will be fit into the curriculum as appropriate.