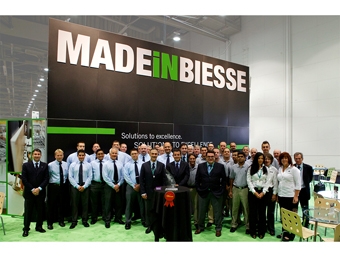 The 2013 AWFS Fair, held July 24-27 in Las Vegas, Nevada, was a great success for Biesse thanks to attendees who visited the company's booth to see the latest in innovative technology. The overall feel of attendees was one of optimism and excitement, which was reflected in Biesse's incoming orders that met and exceeded all expectations.
Biesse was present with a 6,000-square foot booth packed with cutting-edge technology from affordable, high-quality, entry-level machines up to the most technologically advanced solutions available for panel processing, solid wood manufacturing, and plastic manufacturing, as well as the production of non-ferrous metals and composite materials.
Recognizing the lean and value-oriented needs of today's market, Biesse showcased many new products focused on flexibility, productivity, and lowering operating costs.
While visiting the Biesse booth, attendees were given demonstrations on a wide range of products including CNC Routers, Edgebanders, Drilling Machines, Panel Saws, Wide Belt Sanders, 5 Axis Machines, plus much more.
A particular highlight of the show was the presentation of the prestigious Visionary Award for Product Innovation awarded to Biesse for AirForce, the company's new revolutionary system that allows companies of all sizes access to the green benefits of the top invisible glue line quality given by laser edges without the need of a complex and expensive laser system.
Special mention also goes out to Biesse's new breakthrough software, bSolid, that takes you from concept to production in just a few clicks! As well as the new 4 Series Twin Pusher 1.2, the latest design from Selco, designed to improve the output of a standard Sektor Series machine by up to 25 percent, and the most affordable twin pusher design available in the industry.
"AWFS is certainly the most important industry event for North America this year and we are very pleased with our results. After four straight quarters of a steady growth in orders, the solidity of the North American market is no longer in doubt," said Federico Broccoli, president of Biesse America.
Biesse has several upcoming events planned for the Fall and invites you to join them!
+ Biesse America West Coast Fall One2One – October 3-4, 2013
+ Biesse Inside, Pesaro Italy – October 17-19, 2013
+ Biesse Canada Toronto Fall One2One – October 24-26, 2013
+ Biesse Canada Montreal Fall One2One – October 31-November 1, 2013
+ Biesse America Charlotte Fall One2One – November 7-8, 2013
For more information about Biesse at AWFS, call 704/357-3131 or contact [email protected].