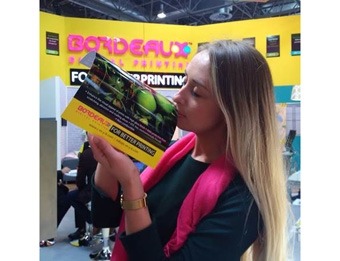 Bordeaux Digital Printink, an inkjet ink manufacturer for the past sixteen years, sealed a successful show at DRUPA with the presentation of its new full range of inkjet solutions. Bordeaux demonstrated unique printing application possibilities, pushing digital printing capabilities to the maximum. At the stand, Bordeaux showcased its new capabilities for the textile, visual communication and special applications markets.
Visitors at the stand were able to enjoy the many unique applications printed with Bordeaux inks on rigid surfaces such as ceramics, wood, and metal, as well as textile (such as a complete living room space printed with one type of pigment ink). In addition, the live demos of Bordeaux's scented coatings created a huge buzz as it introduces new opportunities for print shops wishing to produce more memorable prints to allow their customers to better frame their massages.
The launch of Bordeaux's new UV ink solutions at the show included solutions for HP Flatbed, Vutek GS, Mimaki JFX, and Agfa Annapurna. These new printer-specific UV inks offer a simple Plug&Print on the fly conversion with zero downtime installation and the ability to print on the most rigid and flexible substrates. As Bordeaux expends its range of UV ink solutions it offers high-quality printer-specific inks to match the technical attributes of all major UV printers in the market.
Making waves in all other segments of digital printing market, Bordeaux introduced a new solution for visual communication with its scented coatings for document finishing. This novel concept adds another aspect to visual communication and enhances the visual appeal of prints and adds a unique experience, allowing printed products, like brochures and catalogs, to communicate in a new way. Bordeaux offers a wide range of scents, as well as custom made ones, for specific customers.
For the textile market, Bordeaux presented its breakthrough solution for digital textile printing. With its EDEN PG pigment ink one ink is used for all types of fabrics and with one single printing process for all types. This true game changer simplifies the complexity of digital textile printing allowing print shops to service any type of textile application under their business. The EDEN PG textile ink had just received GOTS as well as Oeko-Tex certification approval, marking another breakthrough for Bordeaux as the EDEN PG is suitability for even the most sensitive applications, such as babies clothing and accessories. The EDEN PG family also supports printing on additional surfaces, such as Décor, wood, and non-woven.
"Bordeaux brought to DRUPA new capabilities. As part of our new makeover, and with our new slogan see what our inks can do for you…we are creating new opportunities for the industry," says Guy Evron, marketing director at Bordeaux. "Our visitors got the full art gallery tour experience of our inks capabilities, seeing touching and even sniffing our new ink solutions. It is the first time at DRUPA that Bordeaux presented a new novel product for each segment of digital printing housing all inkjet solutions under the same brand."
For more information, visit www.c-m-y-k.com.