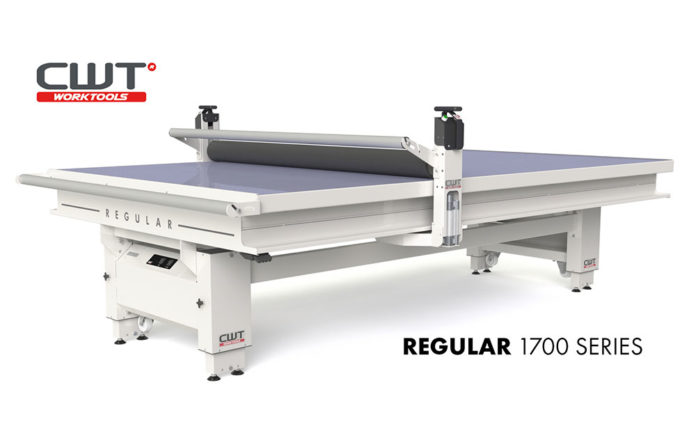 CWT Worktools, a leading provider of flatbed applicators and trimming solutions, introduces its latest innovation, the 1700 series Flatbed Applicator. The Regular 1700 series, CWT Worktools' best-selling and classic model, has been upgraded to meet new industry standards.
The new flatbed applicator is a robust production machine specifically designed for uninterrupted long shifts.
It features essential elements like a light table, electronic height adjustment, and an integrated cutting solution, ensuring high production capacity.
The worktable accommodates a wide range of standard substrates and media widths available in the market.
"We are very excited to introduce our top seller Regular series in a new updated and wider version," said Peter Fagrell, Development Manager/Owner at CWT Worktools. "Responding to market demand, this new series offers a wider format, accommodating media widths of up to 165cm.
"Packed with ergonomic features like a light table, integrated cutting and trimming solutions, and electric height adjustment, it delivers unparalleled convenience and functionality."
Two sizes are available: CWT 1730 REGULAR (165-by-256 cm working area) and CWT 1736 REGULAR (165-by-320 cm working area).
Features and highlights include:
CWT Lift: Integrated electric height adjustment (75-110 cm) ensures optimal ergonomic working height.
CWT Cut: Equipped with brackets for the CWT Linear Cutter, providing a smart cutting and trimming solution for prints and boards.
CWT Light: Transform the worktable into an ergonomic light table with integrated side lit LED illumination.
CutterBench: A bracket that fits a wide range of cutters and slitters, such as the Inglet InBest Pro Cutter Bar™ and KeenCut Evolution2 and Evolution3 SmartFold™.
The new 1700 series Flatbed Applicator will be showcased at the FESPA exhibition May 23-26 along with the 1428 Advantage series and Linear Cuttter. Visitors to the event can see the products in action and learn more about their features and capabilities.
—Press Release