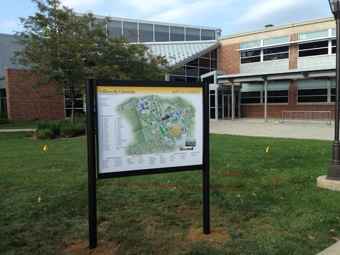 Vista System International, a world leader in Modular Curved Frame Technology (MCFT), recently supplied its changeable Vista Expand Post-and-Panel sign solutions for Signarama of Lancaster, who installed them at Millersville University in Pennsylvania.
The customer needed signs that were visually appealing, could match the University colors, would be all black, and would be easily changeable, since campus maps change depending on the level of construction at a given time.
This project had a total of eight double-sided post-and-panel signs, which were placed in various, high traffic locations around the campus of Millersville University.
From start to finish, the project took just over two months.
The customer indicated that changeability and look were huge selling points.
Vista System's resourcefulness in supplying the right solutions for the project brought to the success of the project with high satisfaction of customer from the overall result.
For further information, visit www.vistasystem.com.