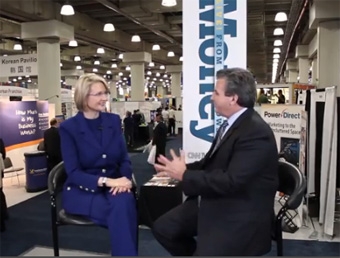 The signage and visual graphics sector within the franchise industry is one that is seeing tremendous growth, particularly for FASTSIGNS®. Catherine Monson, CEO of FASTSIGNS, sat down with CNN Money's Allen Taylor during the 2013 International Franchise Expo to discuss the concept and the notable amount of franchise opportunities offered by the global company.
Every business requires signs, and it is this fact that has allowed FASTSIGNS to grow exponentially since its inception. To create a successful brand the first step is to design a consistent, colorful visual communications program to utilize consistently throughout the entire business, from an online presence to the physical office space. Franchisees and employees within the FASTSIGNS system are educated to work with local business owners to determine the branding and signage that best suits their goals and needs.
FASTSIGNS' system-wide franchisee training program is focused on building a team of marketing experts who possess the ability to help a local business owner succeed.
"We're using our marketing knowledge of what makes signage and visual graphics most effective and successful," Monson said. "Our franchise partners and their team members spend considerable time consulting with prospects and customers on their various business communication needs. Our FASTSIGNS Visual Communications Experts' first questions are typically 'what are you trying to achieve?' or 'what are your business objectives?'. With that and other information we gather, we put together a complete branding package designed specifically with the client's business objectives in mind."
The time and energy spent training and ensuring the success of franchisees in their local markets has, in turn, created unquestionable satisfaction across the franchise system. Not only have FASTSIGNS franchisees generated a meaningful business for themselves, but a sense of pride comes as a result of helping build businesses in their local communities.
During the interview Monson goes on to discuss the various benefits of joining the FASTSIGNS family. She adds, "A lot of folks want to get into a franchise but they don't want the retail hours, the food hours, the long days, the seven days a week. What's so great about our business is that it's a B2B business – it's a Monday through Friday business."
Catherine Monson's interview with CNN Money's Allen Taylor can be found here in its entirety.
For franchise information, contact Mark Jameson at 214/346-5679 or [email protected] or www.fastsigns.com.