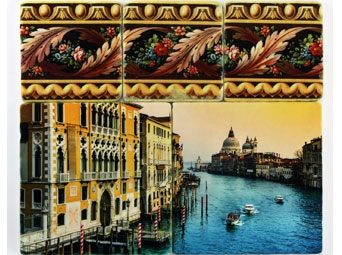 Condé Systems has added IronClad tumbled stone tiles to its DyeTrans® family of sublimatable products. A rustic alternative to imprintable ceramic tiles, IronClad tumbled stone tiles feature small surface pits and fissures as well as rounded and uneven edges that give digital decorators the ability to produce beautiful antique style wall murals for bathrooms, kitchens, foyers, restaurants, and office lobbies.
IronClad˙ tumbled stone tiles are available in 4 inches-by-4 inches (3.94 inches-by-3.94 inches-by-39 inches) and 6 inches-by-6 inches (5.91 inches-by-5.91 inches-by-39 inches) sizes and in a choice of a white or natural color. The white tile's coating provides a better background for photo reproduction while also reducing the depth and appearance of surface imperfections. The results are a photo-quality wall mural with great color and fewer overall visual distractions. The natural tile's coating provides the most rustic look by preserving surface imperfections and offering muted color reproduction that is best suited for artwork.
To view an informative video on this product, visit www.condetv.com. Call 800-826-6332 or visit www.conde.com for additional information and pricing.