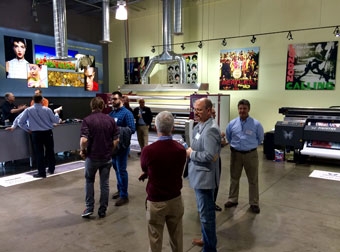 Addressing the fast-growing digital textile printing industry and innovative equipment and technology trends, Global Imaging hosted thirty business owners of some of the nation's largest and mid-size printing and textile companies along with manufacturer's reps at its 6500-square-foot Workflow Studio recently.
"We have now hosted our eighth event and find they have become an important venue for us to demonstrate top-of-the-line products from pre-press to finishing. They also give customers a chance to network and learn about our company while giving us the opportunity to focus on their specific needs," said Tara Lamb, president of Global Imaging.
The day-long event featured presentations, panels and products such as PrinterEvolution's Evo33 DS and Eos126 DS digital textile printers, the Zünd G3 flatbed cutter, Caldera Grand+RIP software and Barbieri Spectro color management technologies. Also featured, were the Impulsa line of Synchromatic industrial sewing machines and REXframe customized SEG textile display systems.
One of the highlights of the event was a customer panel comprised of industry veterans. "The discussion between the panelists, who have been pioneers in the field, and the attendees is invaluable in addressing successes, failures and learning points along the way and our guests have found this exchange of ideas very informative," Lamb said. While most of the discussion focused on fabric and digital textile printing, many questions addressed workflow efficiencies, growing equipment needs and manpower.
The next Workflow Studio VIP event will be held in July 20 & 21. Interested candidates should contact Global Imaging at 1.800-787.9801.