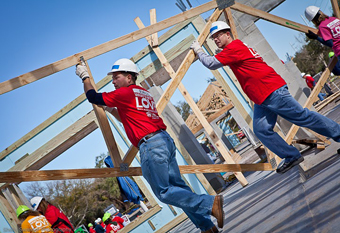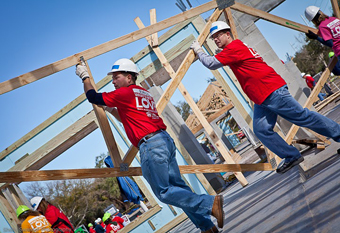 Just in time for Valentine's Day, volunteers from Pinellas County teamed up to help build two houses in just seven days. Hundreds of community members joined forces to craft houses for those less fortunate.
Employees of Creative Sign Designs in Tampa, Florida devoted 161 hours over 24 shifts Saturday and Sunday to the Blitz Build in Clearwater. Although most Creative employees were first-time volunteers, no one hesitated to grab a hammer and jump right in.
Volunteers could choose morning or afternoon shifts to help put up high-efficiency windows and walls for the Green homes. Some Creative volunteers spent both Sunday morning and afternoon helping to finish the houses before plumbers, electricians and AC installers arrived that evening.
Creative's Production Manager Kim McGinnis could not think of a better way to spend her weekend. "Many of our Creative employees tell me they want to volunteer again, which is awesome!" she said. "You can never have too much help when building a home for a deserving family."
Habitat for Humanity has been providing affordable housing opportunities for families in Pinellas County and overseas for over thirty-five years. The non-profit organization has helped build over 400,000 houses serving more than 2 million families internationally.
"It's a wonderful feeling to work side by side with the future owner of the home that you're helping to build. Habitat for Humanity truly is a hand up for those who are working towards a secure future for themselves and their children," said McGinnis.
To view video footage of the build, please visit the Creative Sign Designs YouTube Channel. To view photos from the event, please visit the Creative Sign Designs Facebook Page.
Get involved! To volunteer with Habitat for Humanity in your community, visit www.habitat.org or www.habitatpinellas.org.
About Creative Sign Designs
Creative Sign Designs, with national headquarters in Tampa, specializes in turnkey architectural signage solutions. Creative Sign Designs provides consultation, design, fabrication, and installation services for a full line of interior and exterior sign products. With more than twenty-five years experience providing architectural sign solutions, Creative Sign Designs is capable of successfully managing local, regional, and national projects.
For more information, call 877/818-7180 or visit www.CreativeSignDesigns.com.