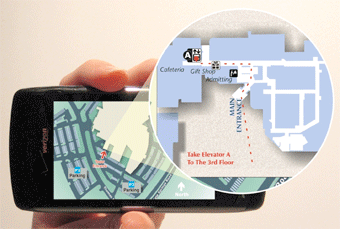 Cooper Signage & Graphics, Inc. (CS&G) of Loganville, Georgia, the nation's preeminent resource for wayfinding solutions is excited to introduce the latest in technology specifically aimed at the needs of major medical facilities. As part of their recent expansion, CS&G partnered with Thompson Healthcare, Canandaigua, New York, to implement the program.
"I think everyone understands the wide range of high-tech medical equipment available within the modern hospital. Squire offers Thompson Health an opportunity to extend that technology to wayfinding, and in so doing, to make the healthcare experience easier and less stressful for our patients, residents and families," said Christopher Mahan, senior vice president for Development and Support Services at Thompson Health.
Lost and disoriented patient/visitors are a significant problem for modern medical facilities. Poor wayfinding has been documented negatively impacting three key cornerstones to hospitals:
* Reduced patient throughput: Can result in downtown for staff and expensive equipment.
* Negative patient experience: Patients rightfully expect a high level of care at
HealthCare facilities.
* Poor image/brand positioning: Perception is critical in the positioning in today's medicine branding, being perceived as leading edge at all levels is important.
"The American Hospital Association recognizes that effective wayfinding is critical to patient flow, patient and visitor safety and patient experience, which in this environment have significant financial implications for health care organizations," added Mary Longe, director, AHA Solutions, an American Hospital Associations Company. "We applaud CS&G's new Squire Wayfinding App.
"Their comprehensive approach incorporates existing and emerging technologies that distinguishes them in the industry. It is an impressive example of technology that engages patients early in the stages of patient flow and not only directs them to the correct entrances, but keeps them safe and increases efficiency for the health care organization. This is a perfect convergence of outcomes for health care organizations as they face the pressures of economic, demographic and regulatory changes."
Squire is a Personal Guidance System (PGS) and much like navigating with a GPS system in your car, and as a tool in a comprehensive wayfinding program is proving to be highly effective. The system is developed for each stand alone or healthcare network and provides turn by turn directions from Home to the interiors of the facility. The app is available for use at each critical Link along the deductive chain of finding your way to the destination:
At home: Web site accessible from your home PC allows you to print directions and ties to Google for vehicular or bus routes.
On handheld smart phones/tablets: As a handheld device, it will tie into the Wi-Fi system of the hospital to allow you to navigate to departments, cafeterias, gifts shops, vending, and back to patient care areas at will.
At site: Squire can be accessed on touch screen kiosks and information centers and even printed with your personalized routing.
Free downloads will be available at the facilities Web site, collateral materials, app stores online, and via QR/MS Code links.
"The Squire Wayfinding App is the most exciting innovation in my thirty-seven years
experience assisting hospitals with sign systems and wayfinding needs," said CS&G President Randy Cooper. "Used in combination with traditional tools like static signs, printed map,s and a well trained staff, this app will improve the patient experience and emphasize care in HealthCare."
The system is easy to update in house or with support from CS&G, and as the app evolves, it will address multilingual and other user oriented needs.
For more details, visit www.signsystems.com/squire.html.