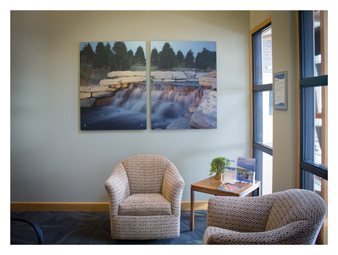 Whether it's high-end wall décor for a city hall, branding graphics for a charitable foundation's offices, or a business achievement timeline for a financial institution, Portage, Michigan-based Agio Imaging, a large format custom print solution provider, has turned to Dibond® aluminum composite material by 3A Composites USA for its durability and outstanding ink adhesion.
While Dibond may best be known for the excellent durability it offers in outdoor applications—including both flat and structural signage—Agio Imaging began using Dibond for both exterior signage and long-term interior décor elements soon after the company began business operations in 2002. Agio Imaging is focused on meeting wide-ranging custom graphic needs of both local and national clients and regularly recommends digitally direct-printed rigid substrates—including Dibond—for their durability, sleek appearance, fast production times, and improved color saturation.
Agio Imaging direct prints Dibond—supplied by the Grand Rapids, Michigan branch of distributor Laird Plastics —via a super-wide format UV printer.
"For outdoor projects requiring rigidity, we go straight to Dibond," said Davina Logan, director of sales, marketing and administration, Agio Imaging. "Dibond is not only rigid and durable, it offers perfect ink adhesion. Nothing on the market comes close to it. We've been using Dibond—especially in the Brushed Silver finish—to produce large format interior displays for quite some time."
Dibond is an aluminum composite material consisting of two pre-painted sheets of 0.012-inch aluminum bonded to a solid polyethylene core—a unique composition that makes it approximately one-half the weight of aluminum. As the flattest panel on the market, Dibond offers a superior surface for direct digital printing; it also can be routed and returned to add dimension or roll-formed to deliver sweeping curves. Dibond offers outstanding durability in outdoor applications and won't bow or oil can. Dibond is available in the 2mm, 3mm, and 4mm thicknesses in several standard painted color combinations as well as with brushed finishes in Silver, Bronze, Copper and Stainless.
Agio Imaging recommends Dibond for creating interior décor pieces designed for permanent installation—although some pieces may be swapped out, depending on the hardware and installation method used, according to Logan.
"As a custom large format graphics provider, our clients look to us for our expertise in choosing rigid substrates," said Logan. "Dibond offers rigidity and great looks. You don't get Dibond's sleek black edge with other substrates, and it routes perfectly. In big panels, acrylics can warp; large Dibond panels stay flat and never droop. And, PVC substrates don't offer the metallic textured finish of Brushed Silver Dibond, which allows us to produce a high-end, artistic, industrial look in decor panels that is absolutely head-turning."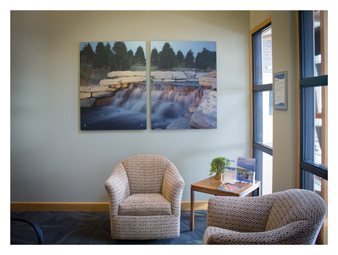 City Hall Renovation
When the City of Portage, Michigan, decided to renovate its city hall in 2014, officials turned to an architectural interior designer and Agio Imaging for help in reflecting the city's beauty through a series of local photographs to be installed as large-format interior wall décor. Agio Imaging recommended that the ten large images be direct-printed in four-color process onto 3mm Dibond—using either the Brushed Silver or White colors depending upon the desired effect.
A photograph of a stream cascading over rocks in a local park was direct-printed and bled to the edge on Dibond Brushed Silver in dual panels measuring 47.5-by-47.5 inches. The diptych wall art was installed with stainless-steel standoffs in a city hall waiting area.
"The Brushed Silver brought a very modern, sleek look into the space," said Logan. "They loved the texture of the Brushed Silver Dibond. Areas in the photograph that were white or light in color seem to sparkle with the texture. We love the luminescence of the Brushed Silver."
Two additional images taken at a local park were direct-printed with a four-color process and full bleeds on 3mm White Dibond panels. One 35.5-by-58-inch image features bright flowers blooming in front of a white picket fence. The other 35.5-by-71.5-inch image captures a peaceful tree-filled landscape and park bench. Both pieces of wall décor were installed with stainless-steel standoffs.
"They absolutely loved the results; the interior designer had never used a product like Dibond for artwork," according to Logan, who said that Portage city officials were so impressed with the city hall décor that they ordered additional panels printed on Dibond for installation in another city facility.
Philanthropic Branding Décor
The W.K. Kellogg Foundation (WKKF), founded in 1930 as an independent, private foundation by breakfast cereal pioneer Will Keith Kellogg, is among the world's largest private foundations and has awarded grants in the United States, Mexico, Haiti, northeastern Brazil and southern Africa—all with the goal of providing children with an equal opportunity to thrive. Among the largest philanthropic foundations in the United States, the WKKF works with communities to create conditions for vulnerable children so they can realize their full potential in school, work and life.
So it's no surprise that children would be the focus of new wall décor created in 2014 for the WKKF's Grand Rapids, Michigan, office.
Agio Imaging direct-printed 11 child-filled images ranging in size from 12-by-12 inches to 42-by-18 inches on 3mm White Dibond, leaving approximately 1 to 1.5 inches of the Dibond edges exposed to form an even border around each image.
Each piece was finished sandwich-style with a silver barrel, Dibond print and acrylic cover sheet "to add depth and a high-gloss sheen," according to Logan.
"The prints stand out from the wall, and the acrylic creates a window-like appearance," she said. "They liked the layered look."
The prints were arranged in two groupings in the office waiting room and wall-mounted with milled aluminum.
"They were very happy with this sleek, modern look and the way the graphics were displayed," said Logan. "They loved the sharp edges; there's such a smooth edge on Dibond. The Dibond cuts beautifully on our CNC router; the polyethylene core holds up extremely well."
Financial Institution Timeline
Agio Imaging recommended 3mm Dibond in both the Brushed Silver and White colors for direct-printing a multi-layered historical business timeline for the St. Joseph, Michigan branch of a federal credit union.
Designed to freshen the lobby area and fill a 105-foot-wide-by-34.5-inch tall wall space, the timeline was comprised of a total of 12 printed panels. Ranging in size from 8-by-6 inches up to 47-by-33 inches, the panels featured historical photos, logos, and business mile markers.
"They wanted to depict their business journey from its beginnings to the present," said Logan, of the dimensional timeline, which was designed by one of the sub-contracted graphic designers in Agio Imaging's network.
In addition to printed images and text, the Dibond was printed in shades of blue, tan, and black as background colors, according to Logan, who said Agio Imaging matched PMS colors selected by the designer. The printed Dibond timeline elements were installed with stainless-steel standoffs to create a sense of depth.
"They loved this timeline," said Logan. "They were very pleased with the timeline's dimensional look and the way it filled the space as well as with the professional execution of this installation. The luminescence of the Dibond Brushed Silver pieces added texture that you just don't get with other materials."
For more information about Dibond, call 800/626-3365, e-mail [email protected], or visit www.GraphicDisplay.com.