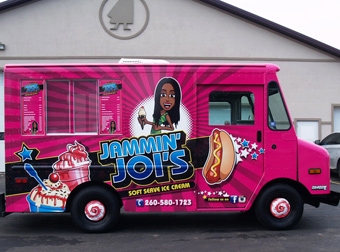 It was a tight competition, but in the end, 3M's panel of industry and celebrity judges, including Jeff Gordon, Jeremy McGrath, and Jessi Combs, selected Daren Merkle as the winner of the 3M Wrap to Win contest.
The winner was announced today at the 2015 ISA Expo. Merkle, of Shadow Graphix in Indianapolis, IN, will soon embark on the trip of a lifetime to Bora Bora, a fitting reward for his outstanding work with 3M™ Envision™ Wrap Films.
The 3M Wrap to Win contest, held between November 2014 and March 2015, asked graphic manufacturing companies to showcase their skills with their best applications of 3M™ Envision™ Print Wrap Films and 3M™ Envision™ Wrap Overlaminates—non-PVC films that provide high-performance technology with a sustainability edge.
Merkle, along with semi-finalists 51 Wraps, Metro Signs Inc., PDX Wraps, and Speedpro Imaging, each received an all-expense-paid trip to Las Vegas for the ISA Expo from April 8-11, where the judges' decision was announced. Merkle's design was selected based on its eye-catching and creative use of space and the overall look of the wrap. Merkle's trip to Bora Bora includes all expenses paid for two people for eight days and seven nights—the perfect chance to dream up the next great wrap idea.
In addition to Jeff Gordon, whose No. 24 Chevrolet SS is sponsored by 3M, the contest judges included:
Jeremy McGrath, Seven-time AMA Supercross Champion
Jessi Combs, Co-host of "All Girls Garage," Velocity Channel (Discovery Networks) and AOL Autoblog Show, The List-1001 Car Things To Do Before You Die
Jill Ayers, President of Society for Environmental Graphic Design
Matt Dixon, Editor of Sign & Digital Graphics Magazine
Dan Desroches, Owner of Affichage.ca
Phil Aquin, Adhere Graphics
Kenny Calman, Geek Wraps
3M judges Alan Miller, Marcio Oliveira, and Tim Boxeth
See the finalists' wrap entries on 3M Commercial Solutions' Facebook or Instagram pages or wraptowin.3M.com.