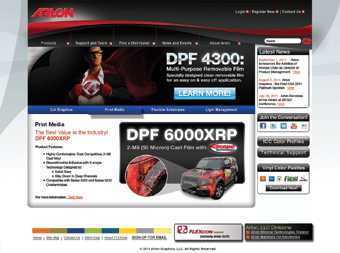 Arlon is excited to announce the availability of downloadable color palettes for Series 2100 Opaque Cast Vinyl and Series 2500 Translucent Cast Vinyl Film. The palettes for these products lines are downloadable and available on the Arlon Web site at http://www.arlon.com/ColorPalettes for the following software programs: Adobe Illustrator and Photoshop, Corel Draw, Flexi, and SignLab.
These palettes will help designers be able to show the Arlon Vinyl colors they are using for their signage designs on screen and before going to production.
Arlon Graphics, LLC, manufactures and markets a full line of high quality pressure sensitive cut vinyl, flexible substrates, and print media films for the digital imaging, signage, vehicle graphic and screen printing industries.
For further information on all Arlon products, call 714/540-2811 or 800/232-7161 or visit www.arlon.com.