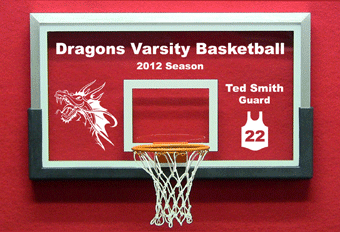 What started out as a high school graduation project has now evolved into a full-time business for one savvy, young businessman, Shane McGinley, founder of Mini Backboards—a manufacturer of the hottest, most unique product to hit the basketball award and gift decor market in years.
After encouragement from teachers and family (including an avid basketball-playing brother), McGinley, with the assistance of his father, worked to create a prototype of the Mini Backboard. Once armed with a college degree in marketing and management, it was time for McGinley to get serious and take the business to the next level.
Today, the Mini Backboard has become one of the premier basketball awards around. The Mini Backboard can be laser-engraved and customized for any school, organization, club, player, league, sponsors, and more.
The Mini Backboard is a highly detailed "mint-like" mini basketball backboard that looks so amazingly real, but only smaller. The Mini Backboard can be laser-engraved to create one of the most exciting and unique achievement/recognition awards in the industry. Its original design makes it easy to hang on any wall for display.
The Mini Backboard is not only an ideal way to recognize excellence in basketball; it has many other uses as well. It may be used in sports marketing; as a promotional product; and for coaches' awards. There is also a whole selection of gift awards for anyone involved in basketball or who is simply an enthusiastic fan.
"In the last fifteen years, I've seen thousands of MVP presentations for junior youth leagues, high school events, college basketball invitationals, and more," says Chas Wolfe, national director of Prep Scouting and Dunk4 Diabetes Shootout. "With Mini Backboards you are getting a slam dunk award to excite any level of presentation."
For more information, visit www.minibackboards.com or check them out on Facebook at www.facebook.com/MiniBackboards.