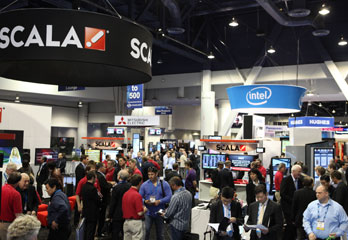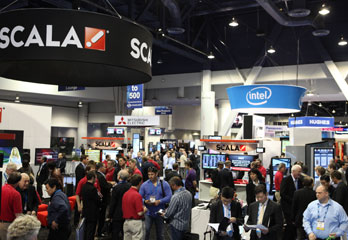 Digital Signage Expo® (DSE), the world's largest International Tradeshow and Conference dedicated exclusively to digital signage, interactive technology and digital out-of-home networks (DOOH), has just updated its digital engagement platform designed to showcase the ground-breaking innovation, new ideas and envelope-pushing applications that were featured at DSE in early March.
The platform, which can be found HERE, makes it easy for industry professionals, journalists, and others active in the space, to reference DSE's 2012 record-breaking show stats, download any of the hundreds of show photos, watch videos of the APEX and Content Winners of the Year, review products unveiled at the show, or download DSE handouts for sessions attended at the show.
In addition to providing a robust resource reference, the information-packed platform can itself be incorporated into articles highlighting post-show coverage of Digital Signage Expo 2012 via embedding just by clicking the "share" tab at the bottom of the platform and selecting "embed."
Susie McManus-Sanders, DSE's Digital Media Editor said, "Serious interest in digital signage and interactive technologies made the event earlier this month the most successful educational conference and trade show in the history of DSE. The updated engagement platform will enable both attendees and those who were unable to attend DSE access to 2012 highlights and information."
You can follow DSE on Twitter at DSExpo, or for all DSE 2012 updates, use #dse2012.
For year-round news and information on digital signage, visit DSE's new Digital Signage Connection web portal at www.digitalsignageconnection.com.
Digital Signage Expo® 2013, co-located with the Interactive Technology Expo and Digital Content Show, is scheduled for February 25-March 1, 2013, at the Las Vegas Convention Center in Las Vegas. To reserve exhibit space contact Jeanne Phillips, 770/649-0300, Ext 16. Or for more information, visit www.digitalsignageexpo.net.