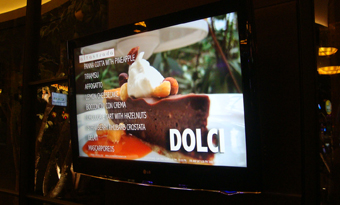 Digital Signage Expo
(DSE) in cooperation with the
Digital Signage Federation
(DSF) will present a Webinar for professionals in all industries who are considering or want to take the first step in implementing a digital signage program. Anyone interested in learning more about the fundamentals of a digital signage program, what's new in digital signage technology, and the best practices in digital signage content, are encouraged to register and attend.
The Webinar titled "Putting Digital Signage to Work for You" will be presented on October 11 from 2:00-3:00 pm EST by three industry experts. Each expert will address a different aspect of digital signage technology:
Getting Started in Digital Signage, presented by Alan Brawn, Partner, Brawn Consulting, DSF Education Committee Chairman
What's New in Digital Signage Technology, presented by Jeff Porter, Executive Vice President, Scala Expert's Group
Best Practices in Digital Signage Content, presented by Adrian Weidmann, Founder and Communications Architect, StoreStream Metrics
Attendees will learn:
What are the key elements for a successful digital signage deployment
How digital signage can be used to solve communications problems
What value digital signage has in the eyes of the client
How return on investment and return on objectives are realized
What best practices exist for determining where, when, how and what your audience is looking at
How audience behavior relates to optimizing the efficacy of digital signage from both display location and content strategy and design perspectives.
How the newest technology innovations make digital signage easy to use as well as affordable
The hour-long webinar will be comprised of three 15-minute presentations, followed by a 15-minute Q&A session.
DSE and the DSF are cooperating on this webinar as part of the DSF's monthly educational series. Through its Education Committee, the DSF is dedicated to creating and disseminating an educational program that will result in member companies operating more professionally, productively, profitably, and responsibly.
Registration may be done online at https://www2.gotomeeting.com/register/370052274.
About the presenters:
Alan Brawn is a principal of Brawn Consulting, an audio visual and digital signage consulting, educational development, and market intelligence firm with national exposure to major manufacturers, distributors, and integrators in the industry. He was previously president of Telanetix and national business development and product marketing director, Samsung Electronics. Brawn is an AV industry veteran with experience spanning three decades.
Jeff Porter is executive vice president of Scala, Inc. With more than fifteen years experience in the industry, he is widely regarded as a leading expert in the field of digital signage. As a passionate and dedicated member of Scala's senior management team since 1994, Porter has served the company as EVP, business development from 2003 to 2007, as president and CEO from 2000 to 2002 and prior to that as Vice President of R&D. Prior to joining Scala, Mr. Porter was employed by Commodore International Limited, AT&T Bell Laboratories, and the Eastman Kodak Company.
Adrian Weidmann has a career spanning more than twenty-eight years in which he introduced emerging digital media technologies and business solutions designed for theatrical, broadcast and music content production and strategy, digital asset management, scheduling, operations, and interactivity. He now assists customer-centric organizations in creating engaging, immersive customer experiences driven by digital media. Weidmann founded StoreStream Metrics, LLC, which provides technical design, data collection, and analysis of audience behavior using quantitative data of actual human action and biometrics. His brand and digital media network experience includes The World Bank Group and International Monetary Fund, Hewlett-Packard, and more.