The year 2020 was not one of the fondest years for the outdoor advertising industry. With several months passed by in lock down and closure, the OOH channels—mainly streets, cinemas, retail, and other transit ads—resulted in almost null revenue during the period. The implications were widely visible in the OOH ad spending, which saw a decline of 28.5 percent as compared to 2019 till September. However, outdoor advertising has rebounded stronger with sophisticated tools and technology showing the light.
In the aftermath of the pandemic, small-medium businesses saw a plunge in revenue, with many businesses laying off workers, shutting down, or filing for bankruptcies.
According to a statistic, small business revenue across all sectors declined by 19.1 percent as compared to January 2020.
The decline in business revenue, challenging operating conditions, and limited funds prompted advertisers to slash their marketing budgets. And, even as the businesses and industry as a whole adapted to survive the sudden shock, outdoor advertising needed to evolve to radically address the rising concerns in light of the pandemic.
Outdoor Advertising During and After the Pandemic
Leveraging the power of outdoor advertising, many successful and popular campaigns were accomplished amidst the pandemic. Among them was Trump's death clock in New York, Salute the Heroes, sending love, and several others that demonstrated the incredible reach and sheer brilliance of OOH ads in sparking engagement and generating awareness.
Even after the crisis, when restrictions finally lifted, it was wise to follow a reopening guide for businesses keeping health and safety in mind. Here, traditional and advanced digital signage, posters, and informational kiosks were already playing their role to make the road hassle-free for businesses. But, the time now signals the start of a new era where outdoor advertising will take on a refined digital form.
Outdoor Advertising in 2021 Will be All About Embracing Digital
It's no surprise that as tech continues to affect every segment of our life that outdoor advertising would also be influenced. Going forward, outdoor advertising will evolve to be more competitive with ads digitally driven by data, programming, and IoT technology. In fact, we are likely to witness a 360-degree pivot from what it was a few years ago. It has already started to happen at a rapid pace as digital out-of-home (DOOH) advertising mediums grow.
According to Statista, the number of digital billboards in the U.S. reached 9,600 in the first half of 2020—up from just 6700 in 2016. You can chart the growth in the graph below from eMarketer.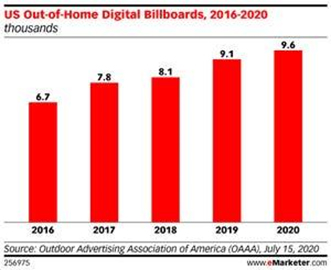 The whopping 42 percent growth in numbers is certainly incredible news for advertisers looking to tap into DOOH ads to respond to the changing avenues of connecting and communicating with customers.
On top of it, the impressive numbers highlight the effectiveness and the trust of marketers to constantly achieve significant results from DOOH—even when the world is shifting its focus to digital marketing and social media platforms.
According to a report from Business Insider, "This year, digital out-of-home (DOOH) ad spending will increase by 1.6 percent, and in 2021, it will rise by 19.2 percent. We expect DOOH ad spending to increase from $2.72 billion in 2020 to $3.84 billion in 2023."
Future of Outdoor Advertising
The pandemic has indisputedly made advertisers rethink and re-imagine outdoor advertising as a whole. Although the pandemic has started to subside, there could be another future crisis at any time. Plus, consumer behavior and the consumption pattern are taking an unpredictable leap, which is another serious concern for advertisers. The future of outdoor advertising will be all about investing, implementing, and transforming the marketing channel. Here is what would fuel the growth of digital in the outdoor advertising world.
Digital Displays
Despite the fact that digital displays are rapidly adopted by marketers, the future will be all about introducing smart, intuitive, and responsive displays.
Not only will these displays provide a TV-like experience, but they also will connect with viewers better by immediately responding to dynamic variables such as temperature, weather, customer mood, etc. And, there is no question about their effectiveness and reliability as a significant share of people retain those ads.
According to Statista, digital billboards, which are the most common digital displays, are highly impactful—with 34 percent of respondents taking action and 32 percent visiting a store, mall, or restaurant advertised.
As technology like the IoT, facial and thermal scanners, and sensors roll out, digital displays will start to show even more precise and real-time information.
Programmatic Ads
Programmatic DOOH ads have redefined the outdoor marketing landscape. According to Statista, the spending on programmatic DOOH is valued to grow to $0.53 billion through 2023 from $0.18 billion in 2020.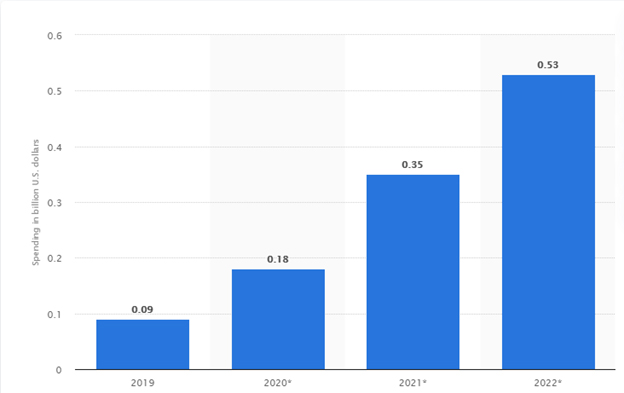 Programmatic DOOH displays will surely be the key for existing businesses ailing with declining revenue to better and more effectively use the marketing budget.
With complete control and flexibility on where, when, and to whom the ads are advertised, marketers can churn out a better return-on-investment from every impression. The possibilities are endless with additional options of contextual and real-time triggers encompassing weather, demographics, geography, etc., all ready to be explored.
Data and Technology
Since data is the new currency of the modern world, the industry will see a sudden shift to data-driven outdoor advertising using unique technological capabilities and innovations in DOOH. Learning from the crisis backed by data, digital ads will be able to shape, act, and respond based on the market, economy, and any health crisis.
Customer Insights
Customers are the lifeline of the industry. With traffic and visitors slowly returning and more customers' insights at hand, the industry has to redevelop ways to improve the cost-effectiveness and relevance by restructuring the buying and planning methodology with more and more information about the customers.
The Best is Yet to Come
While many saw the year 2020 as the death of traditional advertising, outdoor advertising found a way to transform into a more potent DOOH advertising form. However it will be extremely crucial for the industry to think outside-the-box to incorporate and digitize solutions that are way more efficient, productive, and reliable than the former ones.
—Lily Travis
Lily Travis is a content writer at Front Signs who loves to share insights and expertise about the advertising and marketing industry.