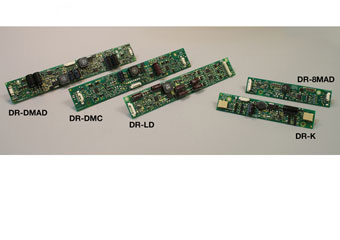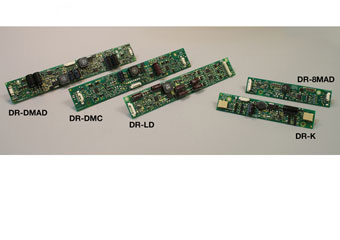 Display power supply specialist
Endicott Research Group (ERG) Inc
. has introduced a new family of LED driver package configurations that provide footprint-compatibility with existing CCFL inverters. The DR Series of LED driver modules are designed in the same form factor as ERG DC-AC inverters already in the field. These are drop-in replacements that allow for a fast, easy upgrade from CCFL to LED backlighting for LCDs without re-designing or re-tooling the mounting hardware. The LED drivers are pin-for-pin compatible with the inverters they are designed to replace and have the same length and width dimensions as well as matching mounting holes.
Available now are the first seven package configurations of what will ultimately be a ten-part series: DR-DMAD, DR-DMC, DR-LD, DR-L, DR-DMD, DR-8M and DR-8MAD. All are made and supported in the USA. Pricing for the DR Series is approximately $13-$20 in production quantities, depending on model number and application. Delivery is 5-8 weeks A.R.O.
For more information, contact Endicott Research Group (ERG), Inc., 2601 Wayne St., Endicott, NY 13760, USA. Tel: 607-754-9187; (toll-free: 800-215-5866).