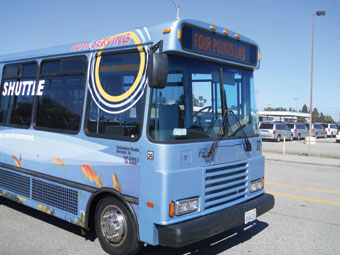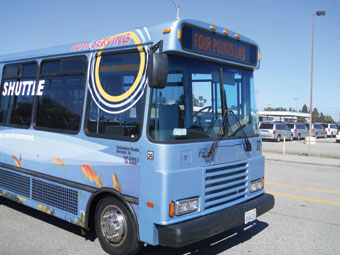 Lori Shridhare
In working with transit advertising, sign professionals need a combination of skills, such as knowledge of the latest display technologies and a knack for creating signage that can easily be viewed in motion.
With twenty-five years' experience, Columbus, Ohio-based Matrix Media Services has worked on transit programs across the country. The company focuses on services for a burgeoning advertising market that consists of non-traditional venues and traditional out-of-home media. Their services include research, planning, procurement, and post-buy market analysis.
Ashley Shipley, director of social media marketing at Matrix Media, says that every municipal and city transit authority exercises power over what types of ad programs they will run, along with the prices for the ads.
"Since we work with these companies every day, we know what questions to ask to get the most for our clients," says Shipley. "However we'll always be constrained by what's offered and sanctioned by individual transit systems—which varies greatly from city to city."
When considering transit advertising, Matrix Media recommends that a client choose an advertising medium that will cover a specific geographic area.
"Most transit ads are placed because the marketer is looking to be location-based and within proximity of what's being advertised," says Shipley. "A store location advertising a grand opening might want to only use transit shelters within a one-mile radius of the store, as well as transit king displays or wraps on buses that travel on routes where the stores are located."
Shipley adds that the factors they consider include the media space rate and how it fits into the client budget, the number of impressions or views the ad will generate, the facing direction (if a shelter), the route coverage (if a mobile display), whether or not the ad is illuminated, and finally, the size and specs of the ad space.
Shipley says that the materials used in transit advertising have remained the same for the most part over the past ten years, and finds no indication that they'll change within the next ten.
"Most transit systems are still using a form of self-adhesive vinyl that's either directly applied to the bus or applied to a coroplast material and inserted into frames on the side of buses," says Shipley.
While most transit advertising is considered traditional, there's a new type of ad now popping up: the digital bus display. In 2010, the New York City MTA tested a digital ad program on buses. The ads were programmed by GPS technology, which allowed the content to change as the bus traveled, reflecting the consumer profile of each neighborhood demographic. "Digital kings and queens" have also been rolled out on buses in a few U.S. cities, including Chicago.
Digital screens on buses and in subway systems allow transit authorities to display continually changing messages, but this option is limited to markets where zoning is applicable and the cost is supported.
In applying best practices to transit advertising, Shipley advises sign professionals to stick with the tried-and-true guidelines that they'd apply to traditional outdoor advertising.
"Ideally you'll want a message that can be digested quickly—using less than seven to eight words of copy, stark design contrast, legible fonts, and a call-to-action," says Shipley. "Since most transit ads are seen while the ad itself or the consumer is moving, the message and design of the ad must make an impact during the few seconds consumers have to interact with the transit ad."
With social media all the rage these days, it's only natural that transit advertising would find a use for it, as well.
"Because most transit advertising is still a static media, the social media tie-ins need to be developed in the strategy-stage of the campaign," says Shipley. "They also need to be featured prominently in the creative design."
Shipley offers advice for sign professionals in this industry—as well as for those who are interested in pursuing this industry. For exterior transit advertising on buses, Shipley recommends always finding out how many different garages circulate in the market and how many buses are dispatched out of each garage.
"In addition, you should always receive route maps for each garage," says Shipley. "While the advertiser is rarely allowed to select specific routes and buses, they can select garages.
"It's important to examine the routes coming out of each garage, so that you can select the garage(s) with routes that target your geographic areas or wherever you're looking to reach your target."
For transit shelter advertising, Shipley says it's important to know where the ad will be placed.
"Always find out if the ad panel you're buying on the shelter faces toward traffic (exterior face) or if it faces people waiting in the shelter (interior face)," says Shipley. "If you want impressions from drivers and want 'street traffic,' then select an exterior face.
"But if your main target is a demographic that's shown to utilize public transportation, then you'll want an interior face."
Shipley adds that an important consideration is lead-time for reserving space and producing creative.
"Some markets sell out during peak times of the year, so in order to have a presence, you need to have your buy confirmed early," says Shipley. "One of the most beneficial aspects of planning ahead is having time to negotiate free bonus space as well as a lower cost per unit because inventory isn't as tight well in advance."
When it comes to tips on design, the recommendations are similar for all advertising media: make sure the ad isn't too busy or the message too vague. Use big fonts and clear ideas. A call-to-action or a memorable line is always important. And the less clutter the better.
"All outdoor advertisements need to have a call-to-action," says Shipley, "whether it's a phone number, a Web site URL, a Facebook page, or a Twitter handle. There needs to be something that directs the consumer to the next level of engagement."
Shipley says the current transit market isn't losing any ground in fighting for dollars set aside for out-of-home media and predicts that we'll see more conversion to digital formats in the future.
"The king and queen displays are already going digital in some markets. I'd anticipate that, as the technology advances, more digital transitions will be made with interior cards and exterior tails," says Shipley.
Shipley adds that a digital conversion in the transit sector may be slow however.
"Most transit authority agencies are strapped for cash already and rely on traditional transit advertising to keep a steady revenue stream," says Shipley. "They'll likely put the onus on the transit advertising company that manages and sells the space to make any technological upgrades. With that type of push-pull arrangement, the shifts to digital formats will be a slow process and won't happen overnight."
Photos courtesy of Omnivex Corporation, Wizard Wraps, & Vector Media.