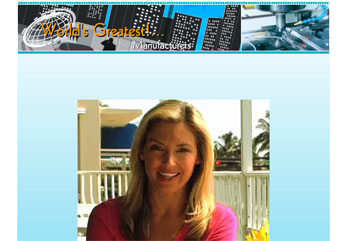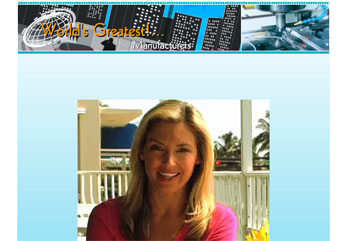 Evonik Cyro, LLC has been selected to be profiled on an episode of the
World's Greatest!…
television series. Airing nationwide on the ION Network,
World's Greatest!…
is a fast-paced syndicated program featuring behind-the-scenes footage and interviews of some of the most amazing and unique companies, products, people and travel destinations around the world.
The episode airing Monday, April 4 highlights the value ACRYLITE® acrylic sheet provides for many applications. Among the benefits included in the three-minute segment are the strength, transparency, weatherability, ease of fabrication, and recyclability of ACRYLITE acrylic sheet.
During the piece, Stephen Costanzo, Acrylic Sheet General Manager at Evonik Cyro, discusses the versatility and functionality of the product, as well as the history of the company.
"I am proud to represent Evonik Cyro on World's Greatest!… and am thrilled that we are being recognized for our innovative product line," said Costanzo. "The TV show profiles unique leading companies in a variety of industries and it's an honor to be considered part of this category."
The segment also features an interview with Drew Scott, Acrylic Polymers Manufacturing Manager at Evonik Cyro, on the company's commitment to quality, safety and customer commitment. Scott explains how Evonik Cyro is able to control the quality of its products by producing its own methyl methacrylate monomer (MMA), the building block for the manufacture of acrylic-based products.
Evonik Cyro's commitment to the environment and marketing its products are also highlighted in the episode, which will premiere nationwide in all four time zones on the ION Network on April 4 at 7:30 am EST. The episode will be repeated on April 5 at 11:00 am EST and April 6 at 6:30 am EST. Check your local listings.
ION Television reaches over 98 million U.S. television households via its nationwide broadcast television, cable, and satellite distribution systems. The hybrid broadcast network is available on fifty-nine local television stations and through satellite signal nationwide as a result of carriage by major cable MSOs, DBS and telcos, including Time Warner, Comcast, Cox, EchoStar, DirecTV, Verizon FiOS and AT&T U-Verse, as well as niche operators.
For more information about Evonik Cyro, visit www.evonik.com.