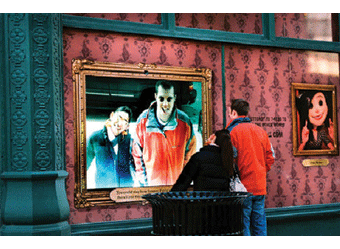 Changing the concept of print as it existed, Express Image brings Active Graphics—a high-tech print video product line intended for the use of interactive printing.
Combining High-Definition printing with High-Definition video, Active Graphics takes retail branding to a whole new level. Set the scene with high quality printed graphics, and then choose a strategic area(s) to drop out and replace with High-Definition video.
"Say your latest store-front graphic featured a static television in the background. Now, imagine if that television was interactive, playing a movie or commercial. Or say maybe it's a large print of a coffee mug in a store-front, and you add steam rising from the cup with video," stated Mike Sloan, VP of Marketing and New Business Development at Express Image.
Active Graphics is all about enhancing retailers' existing static signage and displays by adding an engaging interactive edge.
Choose from various types of projection film—OptiBlack, OptiSmoke, OptiGrey, OptiVue, OptiFrost, OptiFrost 360 and OptiClear—and watch as the skilled Express Image content designers bring your printed graphic displays to life. From unique large format storefront window displays to interactive tradeshow booths and displays, the possibilities are endless with Active Graphics. You can: attract tradeshow booth traffic with active displays; improve customer engagement with instore interactive kiosks; increase brand awareness with large, interactive store front window displays and other interactive signage; update dining and drinking atmospheres at sports bars and restaurants; and compel an audience to stop with unique store front window displays.
About Express Image
For over sixty years, Express Image has been helping OEM and Point of Purchase Retail customers by engineering exceptional Indoor/Outdoor decals and Large Format Indoor graphic printing solutions. With top-notch equipment, experienced employees and continual research and testing to ensure customers receive products that meet their quality and durability standards, Express Image solutions are custom-tailored to meet customer's needs today and can be scaled to fit their business tomorrow.