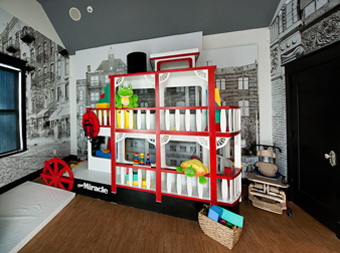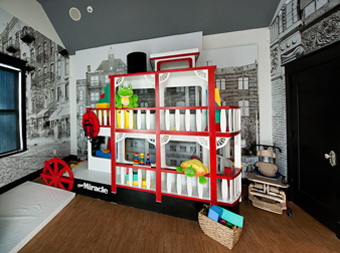 The wallcovering revolution is being televised! A print provider became involved with the interior redo of a family's two-story home on an episode of ABC-TV's Extreme Home Makeover that aired last year, but thanks to some tighter-than-tightest deadlines, one could forgive them if they felt like they were on an episode of Mission: Impossible instead.
Image is Everything is located in Savannah, Georgia and, since its inception in 1998, has grown into one of the largest design and print companies in the area—producing and installing everything from brochures to posters to banners to large wraps. So when the producers of Extreme Home Makeover selected a local family for one of the series' typical "dream home remodel" projects, they auditioned the company's help.
"We're one of the very few printers in the Southeast that could actually produce the scope of the work needed," explains Heath Moore, vice-president of Image is Everything, about why his company was selected.
The project started with a request for wrapped skateboards and Xbox video game consoles but soon grew into the need for stunning wall graphics for full rooms, bedrooms, kitchens, and bathrooms throughout the house. There would also be floor and ceiling graphics and appliqués.
In other words, "If vinyl could stick to it…"
For example, a baby's bedroom is now decked out floor-to-ceiling in vinyl graphics of flowing colors and paintbrushes inspired by "pop artist" Roy Lichtenstein; a little girl's "storybook" bedroom comes complete with a carriage-inspired bed, the countryside and castles on the walls, and cobblestone-path floor graphics; and a little boy's bedroom is inspired by snowboarder Shaun White's video game. "The art there was more urban, modern illustrations with blues and greens," explains Moore. "This child had an impairment, so the producers wanted to use colors that would stimulate and soothe him."
The centerpiece room would have to be the "Savannah Therapy Room," which features photographs of the city on all its walls. "This turned out to be a pretty cool visual," says Moore. "The artist took pictures of Savannah and then made it a sepia tone for a classic, timeless look. We then turned them into 14-by-20-foot images."
Even though Image is Everything is a decent-sized company, their involvement amounted to unpaid volunteer work.
After listening to the producers' ever-expanding ideas, Moore began to realize that the amount of material needed to produce all these graphics was going to cost more than they could possibly donate, so he asked nearby vinyl manufacturer Oracal if they'd also like to get involved. "They donated twelve rolls of temporary and permanent vinyl and laminate, and we provided the printing and installing," says Moore. "Oracal also sent some great employees to help us put up the graphics."
The compressed deadline proved a challenge as well. Exteme Home Makeover producers contacted Moore on a Friday and told him they needed everything finished by the next Friday.
On Monday, Moore reached out to departments at the nearby Savannah College of Art and Design (SCAD) to conceptualize the themes that would transform these rooms. (Note: Producers collaborated with SCAD on the designs as well and turned to another designer in Atlanta for the Shaun White room.)
But after waiting for art files to be approved and sent to his company, Moore called the producers and told them that if he didn't receive the art files by Wednesday, then his company wouldn't be able to print and install the graphics in time. "So of course, I ended up receiving the art around eight o'clock on Wednesday night," he says.
The art files were created in Adobe® Illustrator® and Photoshop® and uploaded to Moore's Web site, where his staff output them using their Roland SC-545 EX SOLJET PRO II printer/cutter and SOLJET PRO II SJ-1045 wide format inkjet printer at 720-dpi. "We ran everything at a great dpi range, because the homeowners will be looking at the wraps for years," explains Moore. "We didn't want to run it faster at 360-dpi and have [the graphics] look grainy." (Note: The floor graphics feature non-skid lamination, while the wall graphics feature a matte finish laminate.)
Even with the rush to get everything done on schedule, Moore still took the time to make sure that the room dimensions would match up with the artwork created. Fortunately he noticed some of the measurements were off and corrected them. "We've learned from past experiences to always double-check everybody else's measurements and specs."
Due to the fact that there aren't twenty-five hours in a day, nor four days in a weekend, Image is Everything and Oracal didn't get much (if any) sleep during installation. In fact, Moore credits coffee and energy drinks, as much as he does their squeegees.
"We started the first install around nine o'clock Thursday night," explains Moore. "We left at six o'clock in the morning and returned four hours later to work until five o'clock the next morning. We were all running back-and-forth to the office through the night to retrieve the material as it came off the printer."
Ever with the pressure-packed schedule, Moore and his team refused to cut corners on the install. "It was important the vinyl went down smoothly," he says, "and that it overlapped correctly." (Note: Panels were applied with 1/2-inch overlaps.)
The graphics installers had to learn how to work around others that were also brought on to fix up the house. "We're placing a graphic on a wall, while working next to an electrician installing electrical sockets and guys setting up cables to HDTVs," says Moore.
The installers worked up to the last millisecond—and beyond, but that's some behind-the-scenes magic you wouldn't see in the finished, edited episode.
"We were in the middle of laying down the last floor graphics when we suddenly heard the host outside yell, 'Move that bus!' [the signal to let the family in]," recalls Moore. "A few minutes later, the producers were shutting the doors to hide us from the cameras."
Despite the slightly maddening schedule, Moore reveals the install ended up being pretty straightforward. "Sometimes people think that Extreme Home Makeover is fake, but I can tell you that it's not," he says. "They do everything in one week—and it's the longest week of your life.
"It was all for a good cause, but it was truly extreme work!"
—Jeff Wooten
AND MORE PHOTOS OF THE PROJECT, SEE BELOW