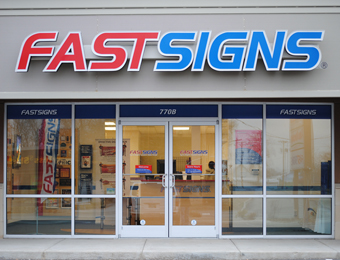 While the uncertain economy and credit freeze have halted business development plans for some entrepreneurs, entrepreneur Greg Yates continues to set high standards and has announced a signed deal to open three FASTSIGNS stores throughout the local market of Bourbonnais, Illinois.
The first store, slated to open in May 2011, will be located at 536 Main Street NW. The multi-unit plan calls for additional stores throughout Tinley Park, Illinois and Merrillville, Indiana. As the world's premier business-to-business marketing solution franchise with more than 530 locations, the new FASTSIGNS store will be a conversion of an independent sign and graphics store, The Creative Edge, run by Yates.
"We are extremely excited to welcome Greg to the FASTSIGNS franchise system and are confident in his abilities to successfully develop in the local market," said Mark Jameson, Senior Vice President of Franchise Development for FASTSIGNS. "As an experienced and successful entrepreneur, he comes equip with the resources to make FASTSIGNS the one-stop-shop for the sign and graphics needs of local residents and business owners."
As the current owner of more than twenty businesses and real estate developments throughout the local market, Yates has spent the past twenty-five years perfecting his entrepreneurial and franchise skills in various industries such as manufacturing, computer and network technologies, construction and food services, among others. In addition to being a business partner of the Hidden Cove Sports Complex in Bradley, Yates was named the Business Person of the Year by the Bradley-Bourbonnais Regional Chamber of Commerce in 2009.
"FASTSIGNS was the perfect opportunity for me to not only get involved with an established and well-known franchise concept in the visual communications industry, but also start connecting more on a personal level with members of the community," said Yates. "While our independent shop was conducted out of a warehouse and focused on a majority of larger projects primarily in the Chicago market, our new store will be situated in retail space, giving local customers the opportunity to come talk to us in person about their needs."
Yates added that converting to a franchise will offer customers national buying power and the ability to stay knowledgeable about the industry as they seek new marketing methods to be more effective.
As part of the conversion initiative, FASTSIGNS offers the dominant brand name in the visual communications industry, the highest average unit volumes, unparalleled franchisee satisfaction, access to endless marketing resources and all of the benefits that come from networking with various centers nationwide. FASTSIGNS also recently secured $4 million in financing for franchisees opening new centers.
"As the sign and graphics industry changes, just like any other industry does, we will be able to utilize a nationwide perspective along with best practices to help us remain cutting edge," added Yates.
For franchise information, contact Mark Jameson or Brian Wieters by calling 800/827-7446 or emailing at [email protected] and [email protected].