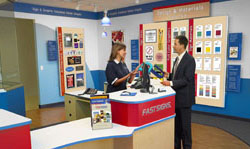 FASTSIGNS® International, Inc., with more than 530 locations, was recognized as a 2011 World-Class Franchise®, presented by the Franchise Research Institute.
"Understanding the importance of knowing what a franchisee thinks, through confidential surveys, is vital to building successful franchise brands," said Jeff Johnson, founder and CEO of the Franchise Research Institute. "FASTSIGNS relied on unbiased, third-party research as the most accurate way to obtain honest feedback from their franchisees, allowing them to identify what is and is not working within their system."
The recognition was a result of a confidential survey administered to all FASTSIGNS' franchisees by the Franchise Research Institute, which studies and promotes high standards of excellence within the franchise industry.
Of FASTSIGNS' 402 existing franchise owners, 71 percent answered the 20-question survey which consists of crucial investment questions.
According to the results of the survey:
* 94 percent of franchisees gave a positive overall rating to the quality of the FASTSIGNS franchise system.
* 95 percent of franchisees agree that FASTSIGNS encourages high standards of quality performance throughout the organization.
* 92 percent of franchisees gave a positive grade to ongoing training and support supplied by FASTSIGNS.
* 93 percent of franchisees agreed that FASTSIGNS responds in a timely manner to questions and minor problems.
"Our franchisees are the ones that have made us the successful concept we are today, and having their full enthusiastic support is the highest honor that could be bestowed upon us," said Mark Jameson, senior vice president of franchise development for FASTSIGNS. "As we continue to grow our company, we look forward to providing all current and future franchisees with the best possible resources and opportunities to experience success in their business."
The company continues to grow the brand and is targeting various expanding markets as part of a growth strategy calling for thirty-five new centers by the end of 2011, expanding through a combination of new center development and conversions of existing independent sign shops. The conversion initiative allows independent owners to partner with FASTSIGNS in reaching their full potential and long-term goals.
Additionally, FASTSIGNS recently secured $4 million in financing for franchisees opening new centers. The company offers the dominant brand name in the visual communication industry, sophisticated e-commerce capabilities and the latest technology, along with access to endless marketing resources and benefits.
For franchise information, contact Mark Jameson or Brian Wieters by calling 800/827-7446 or emailing [email protected] and [email protected].