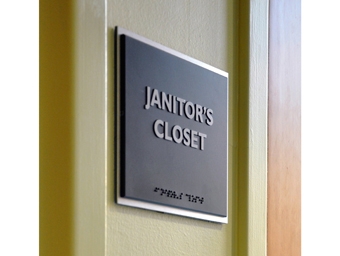 Cadwell Sign, Ability Plastics, Welch Signs, and Cab Signs, four leading manufacturers of ADA-compliant signage for the architectural industry, have joined the elite ranks as Nova Polymers Preferred Fabricators of NovAcryl®, the world's most expansive line of high-quality photopolymer ADA signage.
Nova Polymers' Preferred Fabricator status gives architects and designers the assurance they are working with the finest ADA sign fabricators in the industry. ADA sign fabricators go through a rigorous process to earn Preferred Fabricator status, including subjecting their manufacturing operations to audits that ensure compliance with material processing guidelines, ADA compliance, quality control, and cycle times.
Founded in Holliston, Massachusetts in 1983, Cadwell Sign is a Women's Business Enterprise (WBE) that designs and manufactures signs for customers throughout the world. Chicago-based Ability Plastics is a full-service supplier offering design and custom fabrication of interior and exterior signs. For over 150 years, Welch Signage has served greater New England with custom signage solutions – from architectural signage and donor recognition systems to digitally printed signs. Cab Signs is a leading of engraved and ADA-compliant signage serving the New York area since 1977.
"As a Preferred Fabricators of NovAcryl sign material, these impressive sign manufacturers now offer architects and sign designers the world's broadest selection of ADA signage and have greater control over quality, delivery and cost," said Mike Santos, Director of Sales and Product Development for Nova Polymers. "We all share the same values relating to quality, service and environmental stewardship."
Nova Polymers developed their Preferred Fabricator program to recognize sign fabricators listed as "acceptable manufacturers" in the NovAcryl photopolymer three-part CSI specification. NovAcryl high-resolution raised graphics and tactile signage give architects and sign designers the creative freedom to make signs part of a building's design. In a recent poll of sign industry professionals, NovAcryl Designer Series photopolymer was considered to be artwork rather than wayfinding signage.
For more information about Nova Polymers and Preferred Fabricators of NovAcryl sign material, call 888/484-6682 or visit www.novapolymers.com.