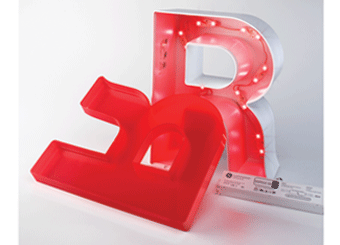 Injection Molded Channel Letters from Gemini are now available as a ready-to-install product complete with a UL Listing. While always certified as UL Recognized components, Gemini Injection Molded Channel Letters are now available as fully UL Listed products, which include LED lighting, diagrams, installation instructions, and UL labels.
In announcing recently that its Injection Molded Channel Letters populated with LEDs are available with a UL Listing, Gemini added that this news will mean generally lower installation costs for its customers. The company added that sign professionals will welcome the assurance that these products meet all UL specifications and come fully populated, balanced, and tested with GE Tetra miniMax LEDs & corresponding transformers. Gemini Injection Molded Channel products are also available without LEDs as UR Recognized components, suitable for use with low-voltage LED systems.
As the world's most trusted and accepted independent safety science company, Underwriters Laboratories® (UL) uses a rigorous set of safety standards and conducts periodic testing before it certifies products for UL Listing. Underwriters Laboratories® allows manufacturers to place the official UL Mark on products that meet those standards as a way for consumers to easily identify that they have been UL-certified. You can place confidence in the integrity of Gemini's Injection Molded products because they can now be purchased with the official UL Listed Mark.
Gemini Injection Molded Channel Letters feature traditional, five-inch-deep cans suitable for either LEDs or neon. They are available in Helvetica and Times Bold typestyles and ten sizes.
Since they are injection molded in a precision-tooled die, each and every face is a perfect fit to the cans. New faces can be made without having to make tracings of the original can. These faces, either Red Edge-Glo or trim-capped, are guaranteed for life. Gemini does not offer these letters populated with neon as an option at this time.
In addition, Gemini's Injection Molded Channel Letters are made from Artek® plastic, an engineering grade performance polymer that is also a flame retardant, recyclable and has excellent resistance to salts, acids and oils. Plus, because they're made of plastic, Gemini Channel Letters eliminate arcing in neon installations using metal channel cans or corrosion that is common in metal cans installed in costal areas.
Since 1963, Gemini Incorporated has been one of the world's leading manufacturers of dimensional letters, logos and plaques for the sign industry. For more information about Injection Molded Channel Letters and other Gemini products, call 800/538-8377 or visit www.signletters.com.