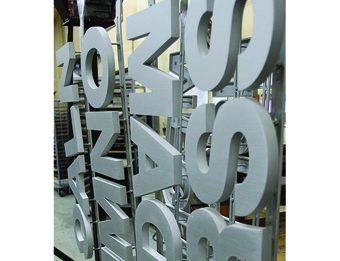 All cast aluminum products produced by Gemini Incorporated are now being manufactured with Aluminum Alloy 514—a grade of aluminum that offers higher ductility, better corrosion resistance, and even more durability than other aluminum alloys previously utilized by the company.
One of the world's leading manufacturers of dimensional letters, logos, and plaques for the sign & recognition industries, Minnesota-based Gemini made the decision to switch to the higher grade aluminum after consulting with customers and reviewing data on weatherability. The improved aluminum, a proprietary blend of Alloy 514, is also more eco-friendly than previous aluminum alloys.
For many years, Gemini has cast aluminum products out of Alloy 514 when anodizing was the chosen finish option because it was superior to any 356 or 319 grade alloys. Now Gemini will be using Alloy 514 for all cast aluminum products.
While a higher grade alloy, the appearance will look the same. The difference is that Gemini's new Aluminum Alloy 514 will last even longer than past products with much fewer instances of failure in harsh weathering conditions.
Now in its fiftieth year of business, Gemini has manufacturing plants in Cannon Falls, Minnesota; Decorah, Iowa; Fallon, Nevada; Taylor, Texas; Farmville, Virginia; Neustadt, Ontario; and Reynosa, Mexico.
For more information about Gemini, call 800/538-8377 or visit www.signletters.com.