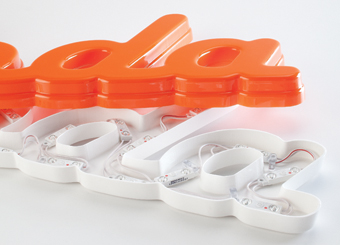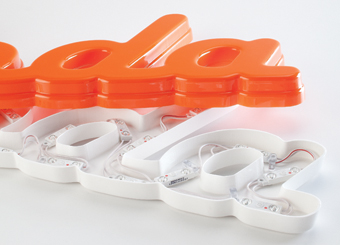 Working with LED-illuminated channel letters just got easier now that Gemini's GemLite Formed Channel Letters are available as a ready-to-install product with a UL Listing. While always certified as UL Recognized components, GemLites are now available as fully UL Listed, which includes LED lighting, wiring instructions, and UL labels.
A leading manufacturer of dimensional letters, logos, and plaques for the sign industry, Gemini Incorporated announced recently that its GemLite Formed Channel Letters populated with GE Tetra miniMax LEDs are available with a UL Listing. GemLite Formed Channel products are still available with or without LEDs as UL Recognized components, suitable for use with low-voltage LED systems.
As the world's most trusted and accepted independent safety science company, Underwriters Laboratories® (UL) uses a rigorous set of safety standards and conducts periodic testing before it certifies products for UL Listing. Underwriters Laboratories® allows manufacturers to place the official UL Mark on products that meet those standards as a way for consumers to easily identify that they have been UL-certified. You can place confidence in the integrity of Gemini's GemLite products because they can now be purchased with the official UL Listed Mark.
GemLite products feature a 1.5- to 2.5-inch-deep letter or logo that is specifically designed for illumination with low-profile LEDs. This revolutionary "slim-line" design features a nearly invisible can and trimless face that allows channel letters to go places they have never been before. Now channel letters can go indoors, as part of P-O-P displays, behind front desk areas, or anywhere illumination is desired without the large five-inch protrusion of a bent aluminum channel can.
The face material of the GemLite Formed Channel Letters has been specially formulated to work with LED wavelengths to promote the best diffusion and light translucency for eye-popping brightness. Sign professionals also have the option of ordering GemLite cans and faces alone or buying them fully populated, balanced, and tested with GE Tetra LEDs and corresponding transformers.
GemLite Formed Channel Letters are made from CAB, a recyclable plastic that is guaranteed not to corrode, chip, crack, or dent.
All Gemini manufactured products come with an unconditional lifetime guarantee.
For more information, call 800/538-8377 or visit www.signletters.com.