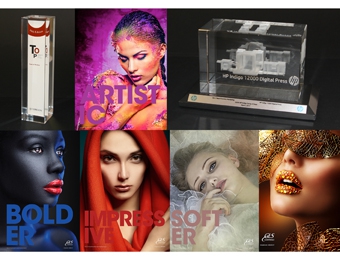 GLS / NEXT Precision Marketing, the Midwest's most awarded printing company, announces it is the first U.S. printer to receive a Special Mention for the Category HP Indigo Digital Printing from the Fedrigoni Top Award. The tenth edition of the widely recognized Fedrigoni Top Award received over 1,000 global submissions representing an influential number of companies involved in the design and printing industry.
The jury reviewed entries based on their innovation and creativity with special attention to the final quality achieved, printing techniques, the ability to use paper and its communicative possibilities. Sourced through GPA, the entry was produced on a series of Fedrigoni's specialty fine and color papers and printed with white ink for added dramatic effects on their HP Indigo 10000 press.
"GLS / NEXT is recognized for the sensational result demonstrated by an in-depth understanding of the design process and masterful management of the machine technology used," said Armando Girimonte, Head of Export Sales at Fedrigoni. "Achieving perfect color images where different complexions and details combined with the colored background in exemplary osmosis."
Additionally, GLS / NEXT was recognized with an award from HP as the 500th Series 4 press installation of the B-2 sized platform at Dscoop Phoenix. GLS / NEXT was an early adopter of the HP Indigo 10000, and this latest addition is its third Series 4 HP Indigo 12000, enabling the agency to create tailored solutions for its clients. GLS / NEXT also received a Certificate of Excellence from the 2017 HP Inkspiration Awards Americas at DSCOOP. The certificate was awarded for its innovative achievement in digital printing for two posters printed off the new HP 12000 digital press, which utilized unique substrates from GPA and cutting-edge digital printing techniques.
Separately NEXT / GLS was recognized in the Public Service Collateral- Brochure/Sales Kit category at The Show, put on by the Advertising Federation of Minnesota for its House of Charity Capital Campaign. This is the first award the agency has received from AdFed MN in its history. The campaign was designed as a fundraising tool for House of Charity when meeting with prospective donors.
"It's been an honor to be recognized at these major competitions that are respected and well represented by our top industry peers," said Jayme Wisely, CEO/President, GLS / NEXT. "There's a lot to celebrate at GLS / NEXT, we've already been notified that we will be presented with multiple Best of Category awards at the Printing Industry Midwest 2017 Star of Excellence Awards in April."
To learn more about the capabilities at GLS / NEXT Precision Marketing, visit GLSprecisionmarketing.com.