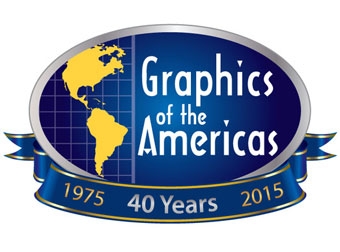 Graphics of the Americas (GOA), produced annually by the Printing Association of Florida, presents Wrap Cup Americas, a vehicle wrap competition where the "wrap stars"of the Americas will be pitted against each other to wrap a line of exotic Maseratis to win the Wrap Cup Americas competition. The winner will take home a prize package valued at $25,000, and the total of all prizes for the competition is over $150,000. The event is limited to the first 36 participants. To register online, visit: http://www.goaexpo.com/wrap-cup-americas.html
The action-packed event takes place at GOA 2015, being held on February 26-28, 2015 at the Miami Beach Convention Center in Miami Beach, Florida, USA. The competition showcases the skill, creativity and, most importantly, quality of installers and vehicle wrappers. The showcase recognizes the best of the best in the global vehicle wrapping community.
Wrap Cup Americas takes place on the show floor and is slated to be one of the show's most lively and exciting features. Visitors can watch vehicle wrapping superstars from North, Central & South America and the Caribbean battle it out through five rounds to hold the coveted title: Americas Wrap Cup Champion.
George Ryan, GOA President says, "We are thrilled to be hosting the Wrap Cup Americas at GOA 2015. As if the exhilarating art of vehicle wrapping isn't fascinating enough, the fact that these leading vehicle wrappers will be working on Maseratis definitely
adds to the excitement here. "GOA visitors are in for a real treat with this event. We are pulling out all the
stops for our 40th anniversary showcase!"
Wrap Cup Americas: Schedule of Events
Day One – Thursday, February 26
GOA attendees will watch the qualifying matches of round one live on the show floor. Vehicle wrappers from around the world will be making their mark on each designated Maserati.
Days Two and Three – Friday, February 27 and Saturday, February 28
The best 24 vehicle wrappers will advance to compete the next day in rounds two and three. The knock out semi-finals will take place on Saturday, February 28, where the remaining competitors and champion of the overall Wrap Cup Americas Champion
will be crowned. The final match will be followed by the official award ceremony, where winners will be presented with various prizes on the Wrap Cup Americas stage. Renowned industry veteran and head of PDAA Certification, Rob Ivers, has been named Head Judge for the event. Event sponsors to date are as follows:
* MR Clipart – vehicle templates and 3D presentation tools
* Image1Impact – wrap tools
* Drivindu – software tools and apps for car wrappers
* Leister – heating guns
* Knifeless – vinyl cutting system
* CoCut – cutting software
For more information
For details about entering the Wrap Cup Americas competition, visit: http://www.goaexpo.com/wrap-cup-americas.html.
For more information on GOA 2015, and to register for free entry, please visit: www.GOAexpo.com and enter source code GOA15.