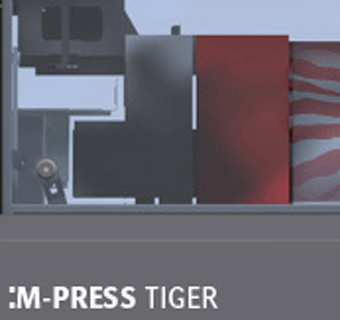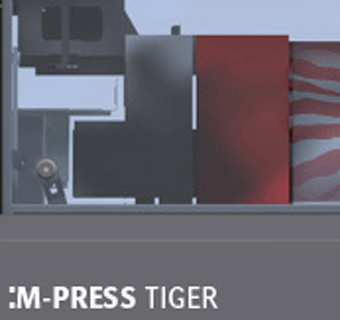 Agfa Graphics announced that Graphic Tech of Fullerton, California has purchased Agfa's :M-Press TIGER, the first in North America with an in-line screen printing unit. Graphic Tech is set to install its :M-Press TIGER in the first quarter of 2011. The award-winning California-based company is one of the most successful full-service graphic communications service providers in the U.S. With years of servicing a diverse base of high profile customers, Graphic Tech has its sight on the future.
"We have followed the evolution of this product. Once we saw the most recent developments of the TIGER, that's when we knew it was the right system and the right time for our business. With the :M-Press TIGER, we have the most productive system on the market. Even with our aggressive quality and ROI requirements, this system is bar none, the best we've seen," said Graphic Tech President, Jim Blee. "Plus, with Agfa's recent acquisition of the Pitman Company, we have access to a partner that meets our total business needs. From media and finishing options to expanded technical expertise, we have a partner this is working with us to take our business to the next level."
Agfa recently added new greyscale technology and faster production modes to the latest versions of its market-leading :M-Press TIGER digital press. The latest upgrade makes the :M-Press TIGER the fastest engine in the global marketplace, able to reach output speeds of up to 185 sheets/hour at a maximum sheet size of 65-by-104-inch with even higher image quality.
The addition of Agfa's latest UPH 2 (Universal Print Head) greyscale technology enables the :M-Press TIGER to print with variable drop sizes as small as 10pl. This allows :M-Press TIGER users to deliver high quality P-O-P printing for fashion, retail, and cosmetics with even sharper images and finer detail. The drop size will no longer only depend on printing resolution but also on color and image content.
Additionally all production modes now feature smoother highlights and mid-tones, without noise or grain, and crisp text even at the smallest sizes, enhancing the versatility and flexibility of the machine for all applications. The addition of true greyscale technology also means that fewer passes are required to achieve the required quality, significantly increasing the effective the :M-Press TIGER's printing speed. The :M-Press TIGER was co-developed by Thieme and Agfa Graphics.
Additional product and company information can be found at: www.agfa.com.