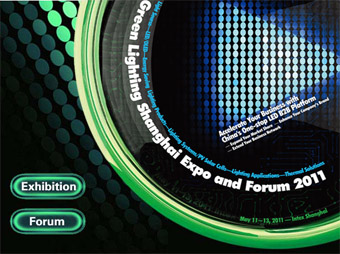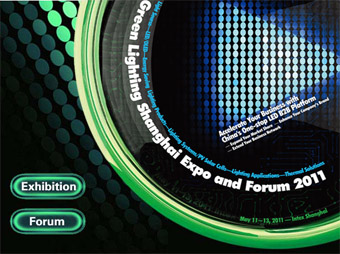 Green Lighting 2011, jointly organized by the China Solid State Lighting Alliance (CSA) and Reed Exhibitions, will be held from May 11-13, 2011 at the INTEX Shanghai. The event will provide a comprehensive overview of the LED lighting industry chain in China and offer significant added value. Currently preparations for the show are underway. The leading enterprises in LED lighting—Nichia, Philips Lumileds, Seoul Semiconductor, and Nata—are all confirmed exhibitors.
Green Lighting 2011 promotes cooperation and technological innovation. It devotes itself to shaping sub-markets through the whole industry chain and promotes resource allocation optimization in companies across the entire industry chain, locally and internationally. Because of this, many of the leading companies in the industry are ardent supporters of the event.
The five major segments to be showcased at Green Lighting 2011 are:
* Chip/Epitaxial Wafer Production and Manufacturing Equipment and Materials;
* Packaging Enterprises and Packaging Equipment, Accessories, and Materials;
* LED Lighting Applications;
* LED Lighting Technology R&D Achievements; and
* Thermal Drives and Solutions
These sectors will span the fields of materials, production inspecting equipment and applications. Included will also be details of R&D achievements within the entire LED lighting industry. No other show in China will have as high a level of specialization this year.
Meanwhile, leading LED lighting manufacturers from Japan, Taiwan, South Korea and Germany will participate in Green Lighting 2011, rendering the show a truly international event.
The technology forum, to be held concurrently with the exhibition, will focus on thermal management, luminous flux increasing, anti-electric breakdown, color technologies, and high-power LED packaging technology in epitaxial wafer growth and chip packaging. About 1,200 industry professionals (many of them esteemed experts) are expected to participate in the forum. The attendance of these key figures will make the scale and influence of the forum peerless across China.
The CSA will provide guidance in the fields of product applications, technical specifications, and industry standards. Companies participating in the exhibition are assured of high-quality services in all aspects of grasping business opportunities, seeking partners, and integrating industry resources. Green Lighting 2011, will be a high-quality technology platform and offer numerous business prospects across the LED lighting industry. "Green Lighting 2011 is one of the top priorities for the CSA in 2011. We are convinced that through this platform, the CSA can better serve the industry. We hope that companies from across the length and breadth of the industry participate in this event, to contribute to the development of China's LED lighting industry," said Ruan Jun, deputy secretary general of the CSA.
For news updates and further details on Green Lighting 2011, visit www.greenlightingchina.com.