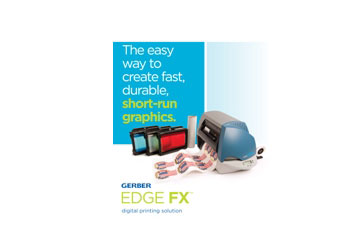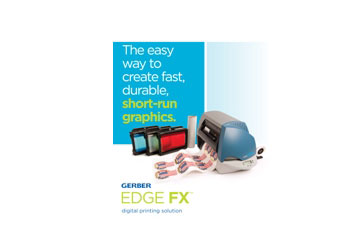 Gerber Scientific Products (GSP) will highlight high-profit, short-run graphics produced on the Gerber EDGE at the Allegra Network & AlphaGraphics 2011 Joint Technology Expo, August 8-9, 2011 at Caesars Palace in Las Vegas, Nevada.
GSP will highlight the creation of short-run graphics using its patented print-to-cut solution with the Gerber EDGETM FX thermal printer, EnVision 375 sprocket plotter and OMEGATM software, along with a collection of "High Profit Materials" at booth #203. GSP will show users how to be more competitive in the sign and graphics industry and increase their profit margins by using Gerber's High Profit Materials.
Some of the materials that will be showcased include LexEdge (polycarbonate) and pressure-sensitive adhesive specialty materials such as PermaGrip, Reflective, GerberMag II, and a variety of vinyl. In addition, Gerber will feature examples of products that attendees can up-sell to their existing customer base to help increase sales, including promotional and ad-specialty items like magnets, decals, industrial applications, and much more.
"Imagine the ability to print on over 30 different substrates and in over 3000 unique colors using GerberColor SpectratoneTM," said Jay Dorman, director of Global Sales at GSP. "Gerber will demonstrate sequential barcode printing, safety labels, variable customized data, vehicle graphics, and other outdoor durable applications."
The Expo is tailored specifically for AlphaGraphics®, Allegra Network, and Signs Now Franchise owners. The goal is to keep franchisees on the leading edge of technology and to help businesses manage their marketing and communications effectively.
For more information, visit www.gspinc.com.