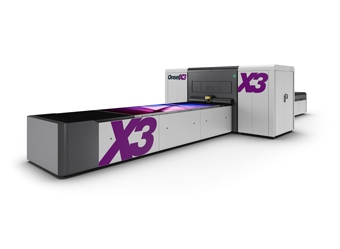 FUJIFILM North America Corporation, Graphic Systems Division is pleased to announce Edison Retail Solutions, a Pennsauken, New Jersey-based signage and in-store décor provider, has chosen the new Inca Onset X3 high productivity UV flatbed printer, distributed exclusively by Fujifilm. The company has earned a reputation for uncompromising standards of quality, creativity and fast turnaround within the retail industry for over fifty-five years. The press will be added to an impressive line-up of inkjet presses at its new 115,500-square foot facility.
As the printing industry continues to evolve, Edison Retail Solutions has recognized the importance of embracing the future, and has taken the necessary steps to ensure that its customers are offered the highest quality products and services. They plan to showcase their capabilities at GlobalShop, March 28-30, 2017 in Las Vegas, Nevada, including proficiencies in print solutions, as well as in-house design, manufacturing and fulfillment capabilities.
"We are anxious to talk to retailers and brand owners about our investment in the Onset X3 and what it will bring in terms of creating fast turnaround of high quality displays and in-store décor," said Kevin Neureuter, CEO, Edison Retail Solutions. "GlobalShop is the world's largest annual marketing trade show, where all elements of retail display are brought together at one giant conference."
Edison was the proud recipient of the International Interior Design Association's 'Best in Show Booth Award' at GlobalShop in 2015, and with its commitment to remain at the forefront of the printing industry, they have introduced several star additions to the company with aims to elevate the business to the next level, including equipment and employees.
"The biggest driver for us to add the Onset X3 into our set of solutions was that it is the fastest and highest quality flatbed in the market," says Neureuter. "Nothing beats the superior performance that the Onset X3 delivers."
The Edison Retail Solutions team needed new equipment to complement their existing equipment and workflow—and add capacity at the same time. When Neureuter, named CEO in January of 2017, was brought on board at Edison Retail Solutions in April of 2016, he set out to solve the obstacles they were facing in the industry and determine how to continue to grow. The first step was to move all of their digital equipment to their new facility in New Jersey, including their Onset S40i, purchased in May, 2011.
"As we're emerging as a leader in the retail market, we need high speed flatbed printing on a number of different substrates and the Onset X3 gave us the flexibility to meet all of our customer's needs," says the forward-thinking CEO. "With the quality of the Onset X3, we can now run work for our high-end cosmetic and fashion clients who have previously turned down the quality of digital prints."
With a maximum throughput of nearly 10,000 ft²/hour, equating to 180 beds per hour (126.8-by-63 inches) the Onset X3 is ideal for companies such as Edison Retail Solutions producing fast-turnaround retail graphics. A choice of unidirectional, bi-directional and super high-quality print modes can be selected depending on the specific job requirements.
Edison Retail Solutions' Onset X3 will feature the addition of white ink, the first of their digital presses to provide this application.
"With white ink on our Onset X3, we're going to be able to print white digitally which we haven't been able to do up to this point," adds Neureuter. "This is especially important to our retail clients around the holidays when we experience a significant need for printing white on colored substrates, clear media and foils. This saves a lot of money and time for our customers because it eliminates the previous make-ready times and waste we had producing this work on our offset presses."
Edison was previously outsourcing some work, but even with great supplier partners the workflow was complex.
"Bringing all the work in-house simply gives us more control, simplifies workflow and enables us to turn jobs faster," said Neureuter.
Edison continues to produce longer run, high quality large format displays on their offset presses, but plans to transition shorter run length jobs over to the Onset X3.
"Our cross-over to inkjet was previously around 300-500 sheet runs; the speed of the Onset X3 now allows us to cost effectively run jobs up to about 2,000 sheets," says Neureuter. "The Onset X3 changes the way we look at jobs; and our customers are the ones who are going to benefit. We understand the fast paced world of in-store marketing where timing is everything. With the Onset X3 we're ready for anything."
To find out how Fujifilm Graphic Systems Division can help your business meet future challenges, improve quality and reduce costs, please visit: www.FujifilmInkjet.com.
To learn more about Edison Retail Solutions, please visit: www.edisonlitho.com.