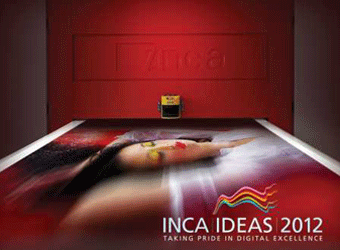 October 20 marked the launch of the second Inca Digital Excellence Awards (IDEAS 2012), which celebrate the creativity and ingenuity of its customers around the world. At a press briefing during SGIA Expo 2011 at New Orleans' Ernest N. Morial Convention Center, attended by both journalists and users of Inca digital inkjet flatbed printers, Inca Digital announced the program to acknowledge the extraordinary work produced on Inca Digital printers.
The IDEAS aim to recognize the power of digital print and showcase the stunning effects that are possible using Inca's state-of-the-art UV inkjet technology. Following the success of the first IDEAS last year, Inca has extended the award categories to reflect the broad array of impressive products that Inca customers are creating today.
The judges are looking for a combination of quality, innovation and creativity across six different categories: Display Graphics, 3D POS, Retail Interiors, Decor and Furniture, Product Decoration, and for the first time, an 'Interactive Display' category.
"We are seeing a rapid growth in the use of Interactive Displays where companies are merging digital print with screens, projectors and video, as well as the clever use of QR codes to create powerful installations" says Heather Kendle, Sales & Marketing Director, Inca Digital. "We expect to see some very interesting entries in this section."
The six category winners will receive an IDEAS Trophy and an expenses-paid, two-night trip to Las Vegas to attend next year's SGIA Expo (October 18-20, 2012). SGIA Expo offers wall-to-wall exhibitors for every aspect of the specialty imaging industry. Attendees can browse through on-site demonstrations, take part in hard-hitting educational sessions, and establish critical business connections at various networking events. It is a great opportunity for IDEA winners to see the latest techniques and applications.
"We were very impressed with the quality and innovation of the entries submitted for IDEAS 2010, not only printed by our Inca Onset models but also by our Spyder and Columbia Turbo models which are still in action producing great products around the world," says Linda Bell, Inca Digital CEO. "We are extremely proud of our business as developers and manufacturers of ground-breaking printers, and the IDEAS are a great way to celebrate what makes our global customers proud of their own businesses."
Closing date for entries is 31st July 2012 and winners will be announced on October 18 during SGIA in Las Vegas.
For full IDEAS competition details and simple online entry, visit www.incadigital.com/ideas2012.