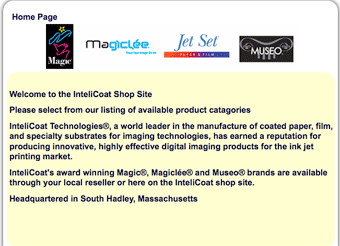 InteliCoat Technologies®, a world leader in the manufacture of coated paper, film, and specialty substrates for digital imaging applications, has announced that customers may now buy popular products from its Magic®, Magiclée® and Museo® brands online through its Web site, www.buyintelicoat.com, in addition to continuing to sell products through its valued network of dealers. This option, which previously only extended to Museo Fine Art products, aims to give InteliCoat customers greater freedom in choosing how to place and order.
"Offering a Web-based store presents convenience to customers who wish to immediately purchase a product that they have found online at any time day or night," said Joe Lupone, president of InteliCoat Technologies. "We expect that this will further expand awareness and increase consumer interest in our brands.
"While the e-commerce Web site improves end-user access to InteliCoat branded products, it does not replace the values offered by our local distributor partners. It is our expectation that many customers who purchase their first Magic product online will then will find a local distributor to develop an ongoing relationship."
InteliCoat dealers offer products at competitive price points and feature advantages, including extended terms, local support and delivery, discounted freight and special requests like overnight shipping. To find an InteliCoat dealer near you, visit www.magicinkjet.com/dealer_locator.html.