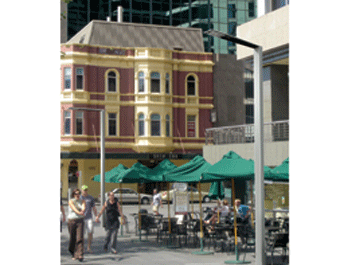 Blending engineering excellence with the latest LED technology resulting in energy efficiency and precise lighting control, Schréder Lighting US General Manager John Camp has announced the introduction of Piano, a new family of outdoor architectural luminaires. From refined, artistic architectural lighting to durable luminaires that withstand the harshest elements of tunnel, DOT, and transit environments, Schréder Lighting US is the epitome of quality and distinction.
Designed by Michel Tortel, Piano features a die cast aluminum housing that is designed to optimize the cooling of the LEDs (light emitting diodes) and electronic driver. The optical system is completely sealed with an IP66 rated compartment. The flat glass is extra clear to maximize the lighting output. Piano guarantees maintenance-free, high performance lighting for many years as it is sealed from dust and atmospheric dirt.
Piano's exclusive Thermix® thermal management design maintains 70 percent of the initial luminous flux for a minimum of 100,000 hours. The exterior surface design, combined with direct thermal coupling of the LEDs, maximizes the luminaire's thermal exchange properties. The electronic control gear is contained in a thermally isolated compartment to extend component life.
Schréder's exclusive LEDSafe® system completely seals the optical compartment to an IP66 level similar to the Schréder Sealsafe® system which has proven effective for over twenty years.
The Piano luminaires are designed to meet Schreder's FutureProof™ concept, which enables the photometric engine and the electrical power supply to be replaced on-site and in the field, to take advantage of any future technological developments.
Precision-engineered molded lenses efficiently redirect LED lumen output. Both Piano 1 and Piano 2 utilize the LensoFlex® photometric engine for a wide range of photometric distributions from a single module. Both families are available in Type 2, 3, and 4 distributions.
Piano 1 uses 56 LEDs to deliver 5,405 lumens and offers an efficacy of 86 lumens per watt, while Piano 2 features 112 LEDs that deploy 10,810 lumens with an efficacy of 86 lumens per watt.
Both Piano 1 and 2 styles have a Correlated Color Temperature (CCT) of 4200K. Warm white and cool white color temperatures are also available. Electronic power supply is over 90 percent efficient, with surge protection.
Schréder luminaires, poles and brackets feature a polyester powder coat paint finish (4 mils/100 microns) unless a custom finish is specified. The finish's chemical composition provides a highly durable UV and salt spray resistant finish in accordance to the ASTM B117 standard and is humidity proof in accordance to the ASTM D2247 standard.
Schréder offers five standard colors: Textured Black; Textured Gray; Textured White; Textured Bronze; Smooth Black; Smooth Gray; Smooth White; Smooth Bronze; and Smooth Aluminum. Other RAL colors are available upon request.
A variety of poles and brackets are available (including straight round, tapered round, and bottleneck styles of aluminum or steel). In addition, brackets are offered in aluminum to complement the luminaire style.
PIANO 1 luminaire (without the pole) has a height of 3.4 inches, a length of 26.8 inches, and a width of 10.9 inches, while PIANO 2 has a height of 3.6 inches, a length of 39.1 inches, and a width of 11.7 inches.
Schréder also offers Owlet, a wireless control system for monitoring, controlling, metering and managing Piano street and area lighting luminaires while reducing energy use and costs.
For more information, call 847/621-5100 or visit www.Schreder.US. You can also follow
Schréder on Twitter at http://twitter.com/Schreder_US and become a Facebook fan at http://www.facebook.com/SchrederLLC.