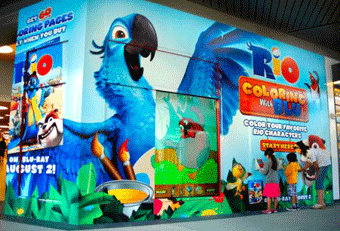 There's a new Inwindow Outdoor Storescape Mall digital campaign, this one supporting the Blu-ray and DVD launch of Twentieth Century Fox's animated film Rio.
The campaign, which launched this week (August 1), can be seen at two Inwindow locations— the Roosevelt Field Mall in Long Island, New York, and Santa Monica Place.
At each location, mall-goers can try out the "Coloring with Blu" app on one of three iPads at the site, which is designed to look like a kiosk. With the Rio Blu-ray disc, you can access the Coloring With Blu App to get sixty coloring pages of Rio characters and then you can email or share it on Facebook.
Inwindow is projecting the designs onto a large screen, toggling between the three iPads, so other passers-by can view the app as its being used.
The displays will be available at each location for four weeks.

Located in New York City, Inwindow Outdoor is an innovative outdoor advertising company that specializes in providing its clients with high profile messages in prime storefront locations. Inwindow Outdoor is also leading the way in the world's transition to digital. Since the company has access to the vacant space inside the storefront, its medium acts as a hub for a wide variety of technologies that can be integrated as part of a larger static ad. So for clients looking to make a lasting impression, a billboard-sized Storescape at eye level draws attention and the interactive component holds it.
Among its other cutting-edge capabilities: large-scale, high-definition, looped video footage and projectors; life-sized motion-reactive displays; augmented reality (allowing onlookers to see their reflection with a virtual image superimposed on their actual image—essentially becoming part of the ad); interactive touchscreens; holograms; custom-fabricated Sunscreens™ (the brightest, highest contrast flat panel screens available for outdoor use); specialized audio systems; and 3D LCD screens (giving the impression that objects are literally flying out into the street without the need for goofy glasses).
For more information about Inwindow Outdoor, visit www.inwindowoutdoor.com.