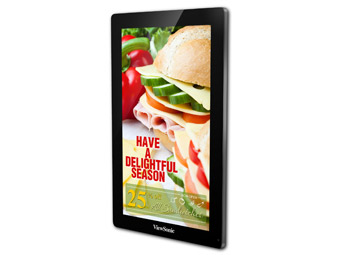 ViewSonic Corp., a leading global provider of computing, consumer electronics and communications solutions, will showcase a variety of new products at Digital Signage Expo.
46-inch CDX4650-L
The brand new 46-inch CDX4650-L ultra-narrow, LED-backlit, LCD commercial display comes with Intel® Open Pluggable Specification (OPS) PC / media player input compatibility.
"At last year's show, ViewSonic introduced DSE attendees to one of the very first ultra-narrow bezel OPS compatible, LED commercial displays on the market," said Gene Ornstead, director of product marketing, ViewSonic. "Today, we are proud to expand this innovative product lineup, providing retailers and other industries with a greater selection of versatile OPS displays for their custom customer enclosure needs."
Featuring a slim bezel, this Full HD ultra narrow 46-inch commercial display features an Intel® OPS slot for easy integration with any OPS compatible media player. With 700 nits high-definition brightness and a color contrast ratio of up to 4000:1, viewers are sure to experience beautiful and bold Full HD 1920×1080 images. Offering up to a 10 feet-by-10 feet tilting video wall support with input loop through and daisy chain compatibility, this energy-saving LED backlight display is designed to support a range of operations. The CDX4650-L has multiple video inputs (HDMI, VGA, DVI, S-Video, YPbPr and CVBS) and the ability to be mounted in portrait or landscape orientation, making it a winning signage solution for everything from 24/7 public display, to menu boards and transportation arrival / departure display applications.
The CDX50-L series is also available in the 55-inch CDX5550-L. Both solutions come with a three-year limited warranty.
EP03r Product Line
The EP03r line is a product family of ultra-slim, wall-mountable ePosters for dynamic, versatile advertising – including the 22-inch EP2203r, 32-inch EP3203r (pictured), and 42-inch EP4203r.
"The new EP03r series offers a unique set of features in a slim stylized design unlike anything else on the market," said Gene Ornstead, director of product marketing, ViewSonic. "Paired with versatile traditional inputs and an internal media player, these wall mount ePosters make impactful in-store digital signage easy for any industry needing signage, from high-visibility retail locations to informational signs in public locations to advertising boards at banks and universities."
Available in three sizes, 22 inches, 32 inches, and 42 inches, the EP03r ePoster series features an edge-to-edge tempered glass faceplate with curved corner styling for a differentiating and eye-catching look. With all-in-one functionality, these electronic poster displays have a built-in media player making the sharing of vivid retail messaging a breeze, as well as the ability to add a third party media player or PC due to the HDMI and VGA inputs. Multimedia JPEG, music, or video content can also be uploaded using a USB thumb drive or over a network using an external media player for further versatility. Supporting both portrait and landscape orientations, the EP03r series accommodates wall mounting using the 400mm-by-400mm mounting pattern on the back panel (100mm-by-100mm on the EP2203r).