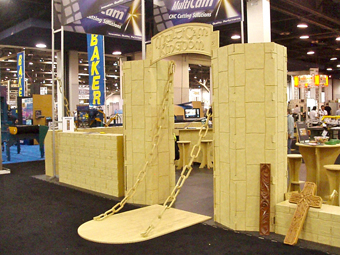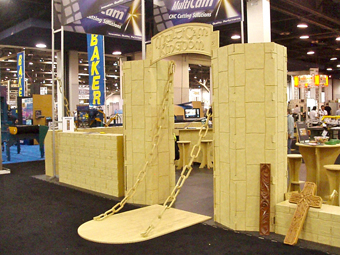 Attendees and exhibitors visited the MultiCam® booth at the Association of Woodworking & Furnishings Suppliers Fair (AWFS) to see a castle materialize from a stack of medium-density fiberboard. MultiCam Inc., a global CNC cutting system manufacturer, pioneered the build-a-booth concept with a southwest theme at the 2009 AWFS Fair. This year, the MultiCam Kingdom was a must-see attraction at the July 20-23 trade show in Las Vegas, Nevada.
Shawn Kirsch, a MultiCam application specialist, designed, built, and assembled the eye-catching slip-fit booth. It featured a drawbridge and towers with a MultiCam coat of arms embellishing the throne and medieval bar that served beer.
"The innovative concept, creative design and unique wood production demonstration drew return visitors, excited to see our fairytale fortress evolve over four days," said Kirsch. "Our MultiCam Kingdom set us apart from other CNC manufacturer exhibitors by highlighting the scope of wood products our machines can produce."
Kirsch has been involved with MultiCam for fourteen years. He started out as a customer and worked at a MultiCam Technology Center before joining the company's Dallas, Texas, headquarters four years ago.
Throughout the show, Kirsch cut sixty sheets of MDF non-stop with a MultiCam 3000 Series CNC Router system. It featured an eight-position ATC, a five-by-ten-foot table, and EnRoute software with rapid texturing feature. People posed for pictures on the throne, and other exhibitors marveled that MultiCam was building a country instead of a booth.
On the last day of the show, staff gave decorative pieces to attendees. Kirsch is already contemplating another imaginative theme for the 2013 AWFS Fair.
Since 1989, MultiCam Inc., has manufactured thousands of CNC (computer numerical control) cutting solutions for various industries around the world. The innovative company integrates advanced technology and value in highly productive systems that are easy to use and built to last. MultiCam manufactures CNC router, laser, plasma, waterjet, and knife cutting machines at its 135,000-square-foot facility in North Texas. The global network of experts includes seventy MultiCam Technology Centers worldwide with twenty across North America. To learn more about MultiCam's CNC cutting solutions, call 972/929-4070 or visit www.multicam.com.