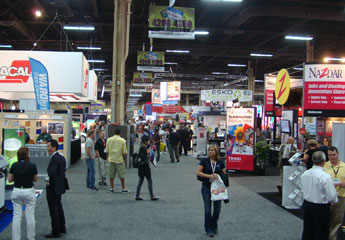 The
International Sign Association
's Kirk L. Brimley Distinguished Service Award was presented to Joe Rickman of Atlantic Sign Media in Burlington, North Carolina at the recent 2011 ISA International Sign Expo. The award is presented annually at the Expo, and it honors a member who has shown dedication and service to the on-premise sign industry for many years.
Rickman's dedication to the sign industry is marked by a rich history of service. He was chairman of the International Sign Association in 2001 and a founder of the Signage Foundation, serving as its chairman from 2003-2010. He remains on the Signage Foundation Board of Directors, where he is involved in the foundation's research efforts.
"Joe has made the sacrifices of his time and his own business to advance the interests of all in the on-premise sign industry," said John Allen, chairman of the ISA Board of Directors and who presented Rickman with the award. "Any time there has been a sign-related issue in the Carolinas, Joe has been there as a strong advocate on behalf of the sign industry."
In accepting the award, Rickman expressed gratitude to his family and his fellow Signage Foundation board members. "Thank you for the honor, and mostly for your friendship," he said.