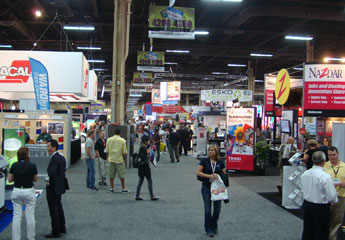 ISA International Sign Expo 2011 was one of the largest in ISA history, and its growth was enough to earn it a spot on Expo Magazine's list of Top 25 Fast-Growth Shows in 2011. International Sign Expo ranked No. 5, a position earned by performance metrics and innovative ways of showcasing exhibitors as well as significant growth.
The event was held in April at the Mandalay Bay Convention Resort in Las Vegas.
"This recognition only reinforces what the sign industry has known for many years: ISA International Sign Expo is the leading event in the sign industry and our strength and reputation are growing," said Lori Anderson, ISA president and CEO. "To be honored outside of our industry for the ISA International Sign Expo is truly an honor, but what we're most excited about is our 2012 event, which I know will only build on the successes of 2011."
ISA International Sign Expo 2012 will be March 21-24 at the Orange County Convention Center in Orlando, Florida. The expo floor will showcase a number of new products and will be the home to daily happy hours. The Best New Product/Green Product Showcase also will be held on the Expo floor this year, with attendees able to explore the products at their leisure and vote via text message.
Expo's education offerings also have expanded to include new tracks on workplace safety and digital electronic signage. For the first time, a company package is available, allowing all members of an organization to attend the Expo and an unlimited number of educational sessions.
A full lineup of educational offerings, listing of exhibitors, registration and travel arrangements are available at www.signexpo.org.