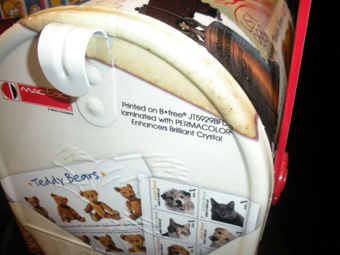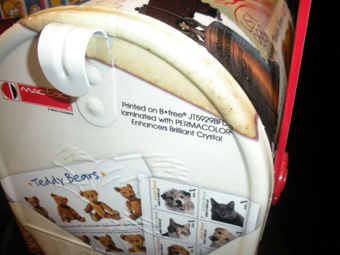 Thomas G. Dolan
Although lamination provides an extra layer of protection for digital print and vinyl graphics (generally a good thing), perhaps the best place to start a discussion about this topic is with the observation that this methodology isn't always necessary. According to Garth Bertini, senior marketing/sales manager at laminating company USI, Inc., "If you're printing on weaker materials—such as paper, canvas, and the like—it's always necessary to laminate.
"But vinyl already has some strong qualities on its own. So it's possible to overkill and laminate when it's not really necessary."
Bertini points out that, if the vinyl sign or digital print is going to be up for only a short amount of time, placed indoors, or won't be handled, then the lamination process actually isn't necessary. But for vinyl graphics that are meant to last for any duration (both outdoors and indoors) or will be within reach of the general public, then it's very wise to invest in lamination for that extra layer of protection.
"To the qualities that vinyl already possesses, lamination adds scratch resistance, rigidity, and UV protection," says Bertini. "And while colors on vinyl will tend to fade over time, lamination will actually enhance the color."
The Advantages of Lamination
The overall appeal of the image and its required performance characteristics are each an important consideration about whether to add a laminate to a print. "For the end-user, lamination offers image enhancement, protection, and added value," says Brian Beauban, Midwestern U.S. Regional Sales Manager with Drytac. "The addition of a laminating film can vary the gloss level from high-gloss to flat-matte or add a unique texture to it—like canvas, linen, or leather.
"In fact, most films incorporate UV blockers and absorbers to protect the laminate itself and offer some assistance for ink stability."
In addition, lamination is great for graphics longevity, and the weather and temperatures play a significant role here. "Even if you're going to hang a vinyl sign out for only two weeks in the sunlight in Arizona," says Bertini, "I'd still think twice about not laminating it."
Lisa Humrich, marketing director at vinyl films manufacturer ORACAL, adds that lamination also reduces glare. "A gloss laminate won't reduce glare, but a semi-gloss will," she explains. "And a matte laminate will do an even better job." (Note: Humrich states that glare reduction is an important reason to use lamination on indoor vinyl graphics such as restaurant signage.)
Once it's decided that lamination isn't a needless expense and will actually enhance the project, cost is the next thing to address. "Sometimes the customer isn't happy if they have to pay more," says Bertini. "So you have to work backwards.
"Show how much it will cost if they have to go buy another vinyl sign or print because they didn't use lamination and break it down to costs per square inch. Then the lamination cost will become very reasonable."
What Type of Laminate?
Lamination can involve either traditional films or newer liquids. Films include heat (thermal) and cold (pressure-sensitive). "The differences between thermal and pressure-sensitive films lie in the adhesive composition with some differences in the film itself," explains Beauban. "Thermal films, although lower in cost to most pressure-sensitives, aren't a good choice to use over vinyl films. The heat involved in application is very problematic for vinyl and, in most cases, give rigidity and won't stretch."
Since laminate films, in general, only cover relatively flat surfaces, a heavy canvas or a textured media would cause them to sit on high spots and to not bond properly or to tent over the low spots (trapping air). "Liquid laminates are better options here, since they'll flow over and into every crevice of textured media, thus giving full coverage," advises Beauban.
"A water-based laminate is also less expensive," adds Dean Strohmenger, senior product support specialist at ORACAL.
Another reason to consider liquid laminates is adhesion, especially when dealing with UV-curable inks. "In most cases, film laminate won't adhere properly to UV inks or certain substrates with a high-surface tension," says Beauban.
Bertini says what often happens is that people will buy a single film and try to do everything with it. "But you have to know the end-purpose for the sign," he says. "It's for this reason that we sell six lines of films for different applications." (Note: Both Bertini and Strohmenger also explain that many materials—whether films, solvents, or resins—have a tendency to boil at low temperatures.)
And inkjet prints can have an especially difficult time sticking to the vinyl. This often requires higher-grade materials. For instance, a more aggressive (that is to say, more expensive) resin can result in a more aggressive bond.
Sometimes the answer to a print bubbling or having trouble sticking to the vinyl is to put towels beneath it and let it dry overnight. Solvents, if wet, tend to go to the edges and cause curling or go down to the adhesive and cause issues later on.
Another suggestion Bertini offers is for decal film: Roll on the top what you will use for the print. "When you take that off, you'll have a second image that has its own adhesive and can be stuck anywhere," he adds.
Same Vinyls, Same Laminates
Strohmenger advises sign makers to make sure to buy both the vinyl and the laminate from the same manufacturer, so that they're compatible. Manufacturers generally sell both, but users sometimes make quick decisions that result in having to track down a laminate from a different manufacturer. "Materials shrink over a lifetime," he says, "and where temperatures fluctuate, inconsistent vinyls and laminates can expand or contract at different rates."
Manufacturers generally offer different laminate lines for different applications. For example, Holly Curtis, director of marketing for vinyl manufacturer Arlon Graphics, LLC says her company carries four main lines. The first is a cast overlaminate that's optically clear and recommended for any vehicle wrap or any reflective perforated for a window. (Note: The second series is not optically clear.)
The final two options are both calendered vinyl. One can be used for point-of-purchase or any kind of indoor or outdoor advertising and comes in gloss and satin finishes. The fourth is a satin PVDF overlapping to protect the signage or graphics from graffiti. "Cast overlaminate is always more expensive than calendered vinyl," says Curtis.
Although posters or prints can be created using either calendared or cast vinyl films, vehicle graphics fall into two distinct categories—flat panels and wraps. A lower cost calendared film can be used for the former (since they're not intended to stretch over contours or around edges).
But for wraps where elongation is a requirement, a cast product must be used. "It's important to use a cast laminate with a cast pressure-sensitive vinyl and a calendared film over calendared media," explains Beauban. "Each type reacts differently to temperature changes and, if you mix the two types, you run the risk of de-lamination." (Note: Liquid coatings can be used for all instances.)
To guarantee the laminating film will perform properly, inks should be properly cured before application. "For aqueous and solvent/eco-solvent inks, twenty-four hours is recommended prior to lamination," advises Beauban. "'Dry to the touch' doesn't mean dry though. Many types of media for aqueous printers have coatings that draw the inks below the surface. They may feel dry to the touch, but the ink is 'skinned over' and wet ink lies under the surface.
"If not completely dried, the moisture will be trapped and cause problems later, such as a snowflake pattern under the laminate. This is often apparent in highly saturated colors and full-color black."
Photos courtesy of (top to bottom): Dave Forrest, R Tape, Luke Sachacher.