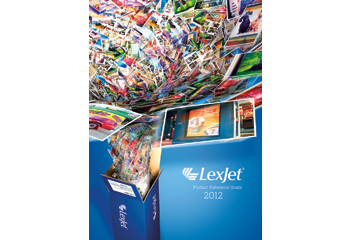 Imaging and wide format inkjet print professionals can source new products and explore new applications with LexJet's new year-round resource, the 2012 Product Reference Guide.
LexJet customers have recently received the LexJet 2012 Product Reference Guide in the mail, which details a wide range of inkjet-printable media, laminates, backers, adhesives, printers, and inks from LexJet, Canon, Epson, HP, Hahnemuhle, and other leading manufacturers. The year-round product reference source is also available as a PDF and can be mailed by request for free at a sign-up page on LexJet's Web site.
"The Product Reference Guide I received last year was what drove me to LexJet in the first place. It's nicely laid out and easy to browse, with pictures of printed applications using the different materials and all the specifications and pricing information we need as we work on new projects," says Rick Hillbrand, owner of Cottrell Printing in Centennial, Colo.
The 40-page guide includes specifications, application ideas, and pricing on:
LexJet, LexJet Sunset, Hahnemuhle, and EPSON aqueous media
Sunset Stretcher Bars, Sunset Pro Photo Albums and Sunset and ClearStar coatings
LexJet, General Formulations and HP solvent, latex and UV-curable media
LexJet laminates, adhesives and backers
Canon, Epson, HP, and LexJet inks
Canon, Epson, and HP printers
"When we developed the content for this year's Product Reference Guide our number one goal was to provide LexJet customers with much more than a simple catalog. It is designed to help our customers not only find the right product for their project, but to help them drive additional sales," says LexJet Product Manager Dione Metnick.
LexJet products come with a 30-Day Money-Back Satisfaction Guarantee and $9.99 flat-rate shipping from a nationwide network of distribution centers to ensure quick, economical product delivery. LexJet customers also receive free, unlimited, and personal product support.