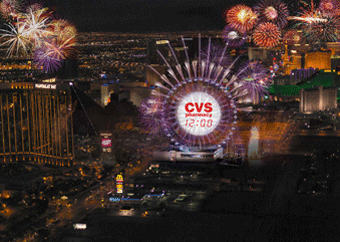 SkyVue, slated to become the largest observation wheel in the Western Hemisphere, set its foundation March 1 with a convoy of more than 100 trucks filling approximately 1,300 cubic yards of concrete. Destined to become an iconic addition to Las Vegas, SkyVue will offer an unrivaled experience for both visitors and residents when it opens July 4, 2013.
"Today marks a momentous milestone for SkyVue and the city of Las Vegas, as our vision of creating a world-class attraction takes shape," said Howard Bulloch, developer of SkyVue. "The observation wheel is the perfect complement to the Strip, fueling both an economic impact for our community and creating a unique addition to globally-renowned entertainment offerings. With incomparable views and an impeccable design, SkyVue will be the must-see attraction next year."
Located directly across from Mandalay Bay, the wheel will tower 500 feet above the famed Las Vegas Strip and feature thirty-two twenty-four-person gondolas and two HD LED Multi Media displays at the center of the wheel, each measuring 50,000 square feet. Sizing up to the length of two football fields, the distinctive signs will be the world's largest displays offering spectacular visuals for the Strip's three-mile stretch and beyond.
The climate-controlled gondolas will offer breathtaking views of the city skyline with each ride completing in thirty minutes. Guests will have the opportunity to rent out a gondola for private events, weddings, and more (complete with catering services).
Led by Howard Bulloch and David Gaffin of Compass Investments, the project will offer more than 200,000 square feet of retail space and an additional 20,000 square feet for conventions.
The project will bring more than 700 construction jobs to the community in addition to an estimated 500 full-time positions for the entertainment, dining and retail offerings once the development opens.
For more information on SkyVue, visit http://skyvuelasvegas.com.
And you can follow updates from SkyVue Las Vegas on Twitter and Facebook.
Photography by Tom Donoghue.