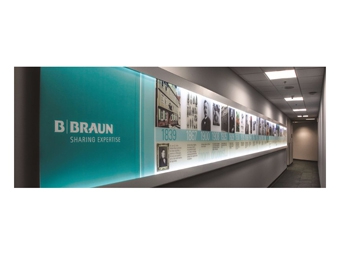 For years, designers and architects selected LuciteLux® Light Guide Panel (LGP) for their edge-lit needs. Now known as LuciteLux® EdgeFX, the new product name better describes the continuous cast acrylic. EdgeFX is formulated with uniformly dispersed illuminating particles to provide bright, even illumination.
In fact, marketers at B. Braun Medical, a medical device company, selected EdgeFX for a project showcasing over a century of history with employees, clients, and suppliers. Working with Valley Wide Signs and Graphics in Allentown, Pennsylvania, the team enjoyed working with EdgeFX because of its unique lighting capabilities and superior depth of color when lit.
"It was LuciteLux EdgeFX that brought the vision of this concept to life. Early in our search for materials that we realized traditional acrylic didn't have what it takes," said Steven Gingras, president, Valley Wide Signs and Graphics. "EdgeFX's unique properties provided even illumination and allowed us to achieve the wow-factor and lit floating effect we were aiming for in the design."
For more information, visit www.lucitelux.com.