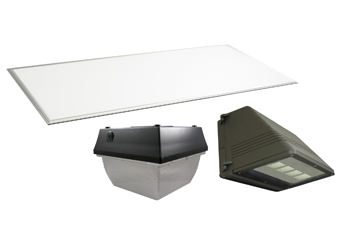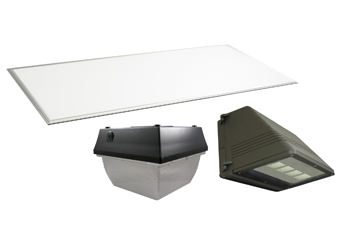 Offering a broad range of energy-efficient lighting solutions for a multitude of applications,
MaxLite
presents MaxLED, the company's innovative line of LED fixtures and lamps. MaxLite is a leading global manufacturer and marketer of energy-efficient luminaires and lamps.
MaxLite's MaxLED family of products offers better quality than incandescent and CFL fixtures (most are LM79 or LM80 IES-approved) and many return on their investment within a year. The LED luminaires offer 50 times longer life than incandescent fixtures, totaling up to 50,000 hours or 12-13 years based on eight hours of daily usage. And they turn on easily without flickering, offer excellent color rendering, and deliver significant energy efficiency.
Manufactured with high-ranked binning for color uniformity and consistency, MaxLED fixtures and lamps turn-on instantly from a cold start, dim down for pleasant ambient lighting, and deliver a high lumen output and CRI (color rendering index). Constructed without any hazardous materials, the luminaires provide a cool operation with emitting radiation or heat while reducing HVAC costs and maintenance.
"The capability of LED to meet or exceed traditional lighting technology is amazing," said Pat Treadway, product marketing manager for MaxLite. "Colors appear in truer hue, people look healthier, and products appear better, using high CRI LED lighting. This is a key strength of this newer technology. When combined with the longevity of a qualified light source, the lower maintenance costs, and the energy efficiency of LED systems, today's consumer can impact both their business and the environment in a positive manner, not available a few short years ago. By incorporating MaxLite products in a few high-usage outdoor applications, the payback time is less than a year."
The MaxLED family of products includes a broad range of LED luminaires and lamping:
Edge-Lit and new Direct-Lit LED Flat Panels are offered in 1×4, 2×2, 2×4, and MRI styles and deliver even, consistent lighting without shadows. Engineered for high performance and designed to lie in drop ceilings, the LED Panels are suitable for office, school, hospital, and medical facility applications. The panels are fully dimmable and compatible with building controls, motions sensors, timers and daylight harvesting systems. Surface mount LED Flat Panels are also offered for interior ceilings or wall installations.
The 20, 30, 40, and 70-Watt LED Wall Packs, are DesignLights Consortium (DLC) listed and available in full cutoff versions. Engineered with UL-certified drivers, the fixtures are efficient, energy-saving replacements for metal halide and high-pressure sodium fixtures used in outdoor applications; these fixtures replace up to 250W metal halide fixtures.
LED WallMax Wall Packs are offered in 20, 30, 40, and 60-Watt styles to replace metal halide fixtures up to 250W. These long life fixtures are maintenance-free for up to 13 years.
Surface mounted Garage and Canopy LED Fixtures are offered with UV-resistant polycarbonate lens. The fixtures, which are available in 40, 60, and 70-Watts, replace up to 250-Watt metal halide fixtures.
Garage Lighter, Surface Mount, and Wall Pack LED Fixtures are constructed with a heavy-duty cast aluminum one-piece house that is protected from dirt and bugs. The fixtures include an LED Driver that is self-contained to meet UL1310 48 Class2 standards.
LED Self-Driven Lightbars, with built-in drivers, are available for cove, accent, indirect, and wall-wash lighting applications, in a broad range of environments including sports book and gaming facilities, freezers, and cold cases. The fully dimmable Lightbars run on 120VAC and plug right into the space's existing power.
MaxLite offers a wide selection of LED lamps, including MR16, and PAR38 lamps for use in recessed and track fixtures, for a variety of applications.
An LED 2.5-Watt Decorative Bulb is offered for replacement of 15-25-Watt incandescent bulbs for marquees, signage, and decorative chandeliers in theaters, restaurants and hotels. The bulb offers a life of 35,000 hours at L70 standards, and a 90 percent energy savings.
A Flame Tip Candelabra Replacement Bulb is available for use with wall sconces and chandeliers, while Stacked Decorative LED Bulbs are used for multi-socket ornamental fixtures and chandeliers.
LED energy saving lamps are available for chandeliers, multi socket fixtures, signage, wall sconces and wall washing. The lamps are ideal for signage, menus, directions, programs, and events in shopping malls, department stores, theaters, office buildings, hospitals, government buildings, schools and colleges, and libraries.
An Edge Lit LED Interactive Display with Touch Screen capabilities can be single or double side illuminated for both indoor and outdoor applications. The display can be operated with a computer using PowerPoint, HTML, and video programs.
An LED Exit sign offers a long-lasting and energy-saving lighting solution for exit signage in buildings, offices, and a broad range of commercial facilities.
A .35-Watt LED Nightlight is offered to replace a 7-Watt fixture while glowing all night and saving up to 85 percent in energy costs. With a long very life of up to 100,000 hours, the nightlight is ideal for bedrooms, hallways, and bathrooms where low-level lighting is needed.