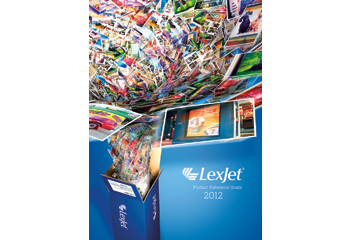 Print shops and other imaging professionals looking for an effective sales tool that shows, tells, and sells their wide-format printing output now have
LexJet
's Large Format Graphics Sales & Application Guides to help seal the deal on the spot with their customers.
The new Sales & Application Guides are hard-bound, three-ring binder media product books. One guide details more than 50 aqueous inkjet media compatible with the latest printers from Canon, Epson, and HP. The other guide includes more than 50 inkjet media compatible with solvent, low-solvent, UV-curable, and latex printers. Both guides include about a dozen media-laminate combinations as well.
"The Sales & Application Guides serve a dual purpose. Most importantly, they allow print shop salespeople to show their customers the actual inkjet materials and all the creative options at their disposal for any application they can imagine, including those they didn't realize were even possible," says Rick Nerenhausen, LexJet's director of sales. "It's also a great educational tool for everyone in the print shop, from sales and purchasing to production."
The Sales & Applications Guides include sheets of banner materials, display films, vinyl media, fine art and photo papers, wall coverings, complete tradeshow and point of purchase solutions, and various laminates.
Each product includes a brief description, as well as features, applications, and technical details. One half of the media is printed and the other is blank so customers can see how colors reproduce on each material and the texture, surface properties, and base color of the material before it's printed.
Supplies are limited, so to purchase a LexJet Sales & Application Guide, contact a LexJet account specialist at 800-453-9538.