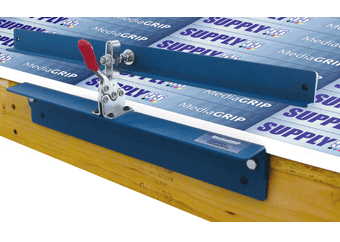 Supply55, Inc., a leading provider of unique value added products to the sign, screen, and graphic arts market is pleased to announce the release of MediaGRIP.
MediaGRIP is an affordable, easy to use workholding device developed by Supply55 to assist with cutting media on bi-directional axes saving sign makers, screen printers, and graphic artists time on production. The intuitive design of MediaGRIP makes for quick and easy use, installation, and removal.
MediaGRIP is ideal for accurately cutting labels, heat transfer material and multiple prints. Solid, all steel construction ensures that MediaGRIP™ is built to last.
MediaGRIP is available through authorized Supply55 dealers. Additional information is available on the Supply55 Web site at www.supply55.com/mediagrip.html.