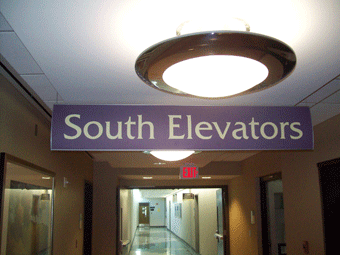 Vista System International, a world leader in Modular Curved Frame Technology (MCFT), recently supplied its elegant Healthcare Line signage solution to Sign-A-Rama Duluth, for installation at Gwinnett Hospital, a healthcare complex located in Suwanee, Georgia.
The project required a complete wayfinding solution for the complex. All signs needed to be consistent in manufacturing, appearance and functionality.
Vista Healthcare Line was chosen as it provided a complete uniform solution for the project, according to the customer's wishes. It offers a large, segment dedicated, variety of elegant and easy to update way finding products: directories, suspended signs, table stands, wall frames, and projecting signs, as well as triangular, post, double-sided, and illuminated pylons.
Vista Healthcare Line is a system of wayfinding products designed with only one focus in mind: the specific signage needs of healthcare institutions. The result is a flexible, modernly designed system that covers all the signage needs of any healthcare facility.
For further information, visit www.vistasystem.com.